Best Places to Take a Road Trip in the South this Spring.
(ThySistas.com) Check your brake fluid, get an oil change, pack lunches, gas up your tank and hit the highways heading down south to these wonderful places to visit for a road trip.  Sure, it's quicker to fly but nothing is as special as a good old road trip.  Each places listed below can be traveled solo or with bff's or family.  A great road trip in your 30's and beyond is anywhere between 4-8 hours, if where you live estimated time of arrival is longer than eight hours, I highly suggest you fly to your destination.
Jack Daniels Distillery (Kentucky):  If you're ever passing through Kentucky and come across the exit towards this distillery it is so beautiful and the drinks aren't bad either of course.  It definitely has that southern atmosphere and they provide tours.  Don't forget to grab a few bottles to take on the road with you and enjoy once you get to your final destination.  Drink responsibly!
Atlanta, GA:  The place that is becoming the black mecca for entrepreneurs and entertainers.  Atlanta is a place that you can get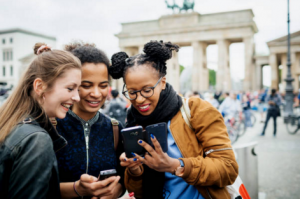 network during the day and party at night.  You can visit the Martin Luther King, Jr. Historical Park, High Museum of Art, World of Coca-cola, CNN Studio tours, Six Flags Over Georgia and so much more.  Not sure if your favorite Housewives of Atlanta are available but you can check out their businesses as well while you visit.
New Orleans, LA:  It's festival season in NOLA now that Mardi Gras is over.  You can find a festival for almost anything: tomato festival, oyster festival, beer festival, strawberry festival, etc.  NOLA has rich culture and cuisines that you could really enjoy year round because there is plenty of things to do and the weather is usually great!!!
Memphis, TN:  Home of the blues and the tragic assassination of Martin Luther King, Jr.   You can visit Beale Street at night and do all of the tourist things during the day.  Places such as Graceland, National Civil Rights Museum better known as the Lorraine Motel, Sun Studio, Memphis Rock 'n' Roll Museum, Slave Haven Underground, The Cotton Museum, Blues Hall of Fame and much more.
Dallas, TX:  They say everyone loves big things down in Texas!  Dallas is a city in the south that you will love instantly.  You can visit places such as The Sixth Floor Museum at Dealey Plaza that exhibits the site of former President John F. Kennedy, the Reunion Tower, Frontiers of Flight Museum and the Zero Gravity Thrill Amusement Park just to name a few.
Road trips can be done at your pace unlike the hustle and bustles of catching flights.  You can stop as many times as you like on your journey to your destination.  You can pack a lunch or exit the highways and grab a bite to eat at a local diner with the locals of that town or city.  You can make it fun and do karaoke in the car with your fellow passengers or by yourself (less embarrassing).
Staff Writer; Felicia T. Simpson
One may also connect with this sister online over at; FTSimpson.com.