Underwear is Important!
(ThySistas.com) Ladies, why are underwear important? We are all women it is perfectly fine to question clothing. Especially if we are paying our money for it in the first place. It is good for women to know their clothing and why each piece of clothing is important especially underwear. As women we need to understand the duties of our underwear to prevent our younger generation from thinking it is ok to go commando. ABSOLUTELY NOT! And men are not safe either underwear are just as important to them as it is for us.
As it has been said, underwear keeps the vagina from outbreaks or chafing between the legs that can be caused by the material worn in pants or shorts. For example, if a lady is wearing jeans without underwear she has a greater chance of rash because her delicate skin is rubbing against jean material. Undies also keeps our private area out of sight of wandering eyes. Especially for summer time… aka the summer dress time.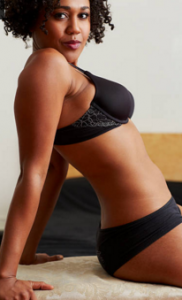 If the winds are blowing heavy and the dress rises all that meets the eye are cute underwear underneath the dress. This prevents ladies from being exposed. Panties hold sanitary pads and helps prevents staining in the clothing. I don't think any woman would opt out of wearing underwear when that time comes. Underwear also catches vagina discharge that would otherwise leave a smell on the clothing between the legs when undies are not worn.
Certain types of fabric are also supposed to promote comfort and fabric such as cotton is believed to absorb moisture, reducing odor fumes from the vagina. Underwear that may work well at night maybe not be the best choice to wear for workouts. For example, silk underwear would not be a good choice to work out in because silk traps moisture that causes irritation. With that being said… tight underwear restricts the air flow of the vagina and should never be worn because it can lead to yeast infections and other issues. Large underwear isn't good either due to the bunching it causes that can be seen through the clothes. Fabric such as; polyester, nylon, spandex, etc. have stretch material that lies down smoothly under clothing. Synthetic fabric is believed to trap in moisture that can cause irritation.
The size of underwear is also important and there is a way to determine the size of underwear we should purchase. To find out what size underwear is supposed to be worn, ladies must take accurate measurements of the hips and waist. There are also with the measurements listed with the appropriate underwear size.
As of the importance of underwear, it is also important to know which type of detergent or washing powder to use when washing underwear. Ladies should avoid using bleach in underwear because bleach not only wears, tears, and fade the underwear quickly, bleach can also irritate that sensitive spot of ours most the of time. All in all underwear are still important.
Staff Writer; Sha'Nelle V. Harris
One may also connect with this sister via Facebook; S. Harris.