Plus Size Wedding Gust Attire: Summer Edition.
(ThySistas.com) One of the best things about summer is the many different activities and events that take place. From beach tag-a-longs to pool parties and barbecues, it is a time for fun in the sun and good memories. Speaking of memories, weddings are an excellent way to make some special moments that you can look back over for years to come.
If you are a plus sized woman, finding something to wear to a wedding can be a bit of challenge, especially if you want to look trendy and fashionable. The sad truth is you have to know where to look to find deals and looks that fit into your budget and that match your style. But the good news is that there are plenty of places to look AND plenty of different designs to add to your closet.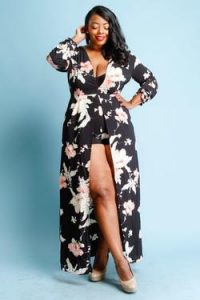 So have not fear, you don't have to attend any wedding this summer feeling like you don't look "the part." You can walk into any ceremony feeling confident and ready for a good time when you know your options.
Here are some ideas for lovely summer wedding attire for the curvy woman.
Jumpsuits
I adore a good jumpsuit. They came back in style a few years ago and I have seen them updated and transformed time and time again. If you are going to a summer wedding that is indoors, this is a good piece to wear. You can dress them up with a sexy pair of heels and since there are a lot of styles when it comes to jumpsuits, you will find something that works for you for sure.
Rompers
Along the same lines as a jumpsuit, a romper is another excellent choice. The shorter version of the aforementioned piece has come a long way. There are some chic rompers out there that work perfectly for special occasions. If you are attending a beach wedding, this is the thing to wear.
Maxi Dresses
I love maxi dresses because they are comfortable and look good on just about everyone. What's really in right now are maxis with an off the shoulder neckline. These are particularly sexy and most have a bohemian feel to them. These dresses work for just about any wedding occasion. Since they are long, you can even get away with wearing some cute flats because we all know that weddings mean it's time to party and dance all night.
Midi Dress
There is a certain kind of sophistication with a midi dress that just works. A midi dress has a hemline that comes right to the knee or a little below it. I like them a lot because they are flattering for just about every body shape and they come in a variety of designs. If you like something that is going to give you a little more modesty and coverage, then you should go with this one. It works well for all types of weddings. Wear a floral midi or a brightly colored midi. It's all up to you.
Weddings are great because you get to celebrate love and so much more with close friends and family. And of course, you want to look good doing it, even if you're not the bride.
Staff Writer; Rasheda Abdullah