The Top Plus Size Retailers.
(ThySistas.com) Summer is right around the corner. As a thick woman, I know firsthand how hard it can be to find trendy clothes. It is 2017 and that means gone are the days of having to settle for whatever department stores have stocked in the plus size isles. Thanks to advocates who stay on top of designers and retailers, there are more plus size clothes offerings than ever before.
Take it from me there are so many more options today for the curvy woman. The great part about it is that it is not just department stores that have upped their game. There are actual designers who create lines specifically for thick women. Along with that, there are retailers who ONLY sale plus size items. If you are new to the plus size game or just oblivious, this is a big deal. My favorite part about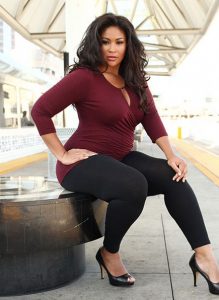 all of this is that the offerings are on par (and in some cases surpass) straight sizes. While it's not a competition, it is beyond refreshing to see the advancements that have been made in this area.
So, just in case you are in need of some spring and summer inspiration, here are a few top retailers to find affordable, fashionable and quality clothing for your beautiful curvy self.
Forever21
This store rarely disappoints. From their dresses to their tops to their jeans, they are a great option. They have some of the most affordable clothing and when it comes to their swimwear line, they really can't be beaten on availability and pricing. Their plus sizes go up to 3X.
Charlotte Rouse
I was so excited when this retailer decided to tap into the buying power that is the plus size demographic. Their clothing is pretty true to size and they go up to a 4X on some of their items. I particularly love their dresses. They are sexy, fun and very trendy.
Fashion to Figure
This retailer has been on the scene for a few years and boy have they made a big splash in the market. Fashion to Figure has evolved their line to be more true to size for larger plus size women. They offer super cute dresses and I love their tops. You can shop them online if you don't live in one of the eastern/southern states where they have stores.
Agaci Stores
A lot of people sleep on this retailer. It's time to wake up! Agaci has some of the absolutely cutest and trendy plus size clothes on the market. Their prices are more than affordable and you can shop them online in the comfort of your home. Seriously, if you haven't checked them out, go and Google them right now.
ASOS
There is no disputing that ASOS.com is the truth. Their in-house label, Asos Curve, and collection of other plus size brands are amazing. With sales going on all the time and a low-cost annual shipping membership that guarantees 2-day delivery, they are a premiere plus size brand.
When it comes to feeling good about how you look as a plus size woman, options are everything. These retailers are a great start on your quest to be the most fashionable lady at every summer party.
Staff Writer; Rasheda Abdullah