Reasons Why Your Next Career Move Should Be In Healthcare!
(ThySistas.com) If you're stuck in a rut, if you want a change – or if you want to find a role or career path that is both exciting and satisfying – you needn't look much further than field of healthcare. No matter your interests, skills or experience, it's highly likely that there could be a role for you in the medical world – and if not, there is plenty of training available.
The obvious place to get started with is the role of a doctor. A career as a doctor is hard, it's expensive – but it is worth it. This career path might be off limits to those who can't get in at the ground floor – which would be completing a medical school test after earning a diploma in a science or medical related field. This is just the entry requirement to what is a long, and hard path. That being said – if your heart is set on being a doctor, it isn't impossible to achieve.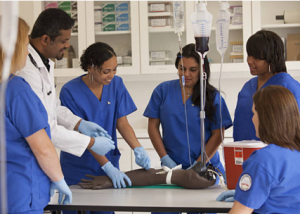 Nursing is a great point of access to a healthcare profession – but it still requires you to get trained up and qualified. Nursing is a respected profession, and while doctors focus their knowledge, it is the team of nurses that pretty much run the show and dominate day to day healthcare. A degree or dedicated training program is required to gain a role as a nurse. Nursing also offers amazing pathways for progression and internet facilities such as Our Lady of the Lake College online allow you to learn and transform a nursing degree into the area you want it to focus on.
If you already have university qualifications or transferrable experience in your belt – it might be better that you don't start relearning everything unless you have a desire to get involved with hands-on healthcare. There are plenty of roles that could use your existing skills as well!
If you have qualifications in financing or business – you could find plenty of leadership roles to get your teeth into. Practice managers are required to back up doctors with paperwork and administration so they can focus on helping people. Some healthcare facilities are split in half with two leadership teams – one medical and one business and for every doctor running a facility is a practice manager.
There is also a lot of money involved with healthcare – namely in the transactions between doctors and insurance companies. Roles exist for insurance professionals and credit controllers to chase up funds, payments and money.
If you want to get started out, practice administrators work around the clock to file records and deal with queries as well as assist in the day-to-day running of a medical practice or hospital. Receptionists are also the first line of response to patient queries and communications and in many cases these are entry level roles that require very little experience.
The world will always demand healthcare professionals from all backgrounds – so if you want to get involved, find out what role you would take and start training up.
Staff Writer; Sherry Poole