3 Construction Careers To Consider.
(ThySistas.com) The construction industry in the USA has made a turnaround in recent years, enough for the labor department to predict an increase in employment for this sector by 11%. With this increase in opportunities, it's difficult to ignore the construction industry as a career contender which has both prosperity and security.
Without overstating the obvious about construction in terms of its lack of female participants, this post has not been made on the basis of the obvious need for gender equality or that we should do head in the direction of choosing a specific career just because there are far too many men that do it. It's to widen knowledge of career opportunities in professions women may not be exposed to as much as men. Which is not aimed to be an us and them statement, as the same applies to men who wish to apply for positions dominated by women, for example, nursing. So beyond the stigmas, let's crunch down to what some of the different construction opportunities are, what the education and training requirements are and how much salary you can expected to be rewarded, to give you the stepping stones for building a new career that you may not have considered before.

Plumber – Median Salary: $51,450

What do plumbers do?
Although some jobs within construction appear unstable when there are changes in the economy, a job as a plumber is apparently deemed recession-proof. This is understandable considering how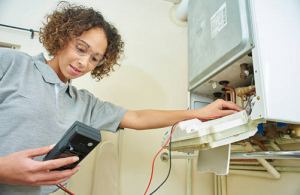 dependant we are on the expertise of plumbers, which we only really appreciate when we wake up in winter to no hot water or a leak is causing our water bill to skyrocket. Plumbers are a necessity for helping to blueprint and construct piping in new houses, and to modernize the piping in old ones. As well as fix all other issues within the home, such as the clogged toilet, backed up drains and water supply to the washing machine.

What education do I need to become a plumber?
If you gain satisfaction from troubleshooting, solving and fixing problems and you also like communicating with different people, a career in plumbing could be what you're looking for. For those wondering how to get started, you are required to acquire both educational and practical experience. This is usually attained during an apprenticeship and working alongside an experienced plumber, which usually takes around 4 to 5 years. Following this, you may aspire to eventually work independently and start your own business. In order to do this, you must check the requirements for your state, as a license is sometimes required.

Mason – Median Salary: $53,390

What do masons do?
Masons are responsible for piecing together the buildings found within your village, town or city and are sometimes distinguished by the type of material they work with, be it brick, stone or blocks. Although the line between each role has become blurred as brick and block masons are now technically put into the same category when they are doing a commercial work. This field is a job mainly to men. However, as described by Herndon at money.usnews.com women within the mason role are commended for their proficiency within detail-oriented work.  
What education do I need to become a mason?
Much like plumbers, we are heavily dependant on masons to build us homes, supermarkets, and office blocks. If you like the idea of being outdoors and being apart of creating incredible buildings, you may be interested in becoming a mason.

Likened to work as a plumber, an apprenticeship (usually provided free of charge by employers) is the most common route for people to gain on the job experience while gaining knowledge at a technical college. An apprenticeship enables a mason the adequate skills and intellect to fulfill their qualification after around 4 to 5 years. Following launching your career as a mason, it's generally expected you will eventually run your own construction mason company and contracts. Being a mason presents a great opportunity for you to one day be your own boss, by raising capital, looking after your own apprentices, sourcing your own contracts and you can visit Equify auctions for more machinery to help your business flourish.

Electrician – Median Salary $52,720
What do electricians do?
Electricians devise the blueprints for wiring your home to ensure your kitchen appliances, internet and lights are all working. You only realize how much electricians are vital when you are struck by a power cut rendering the majority of your in-house technology useless. Electricians source problems with your electric circuit and subsequently work to fix them to get your power back up running. The scope for work as an electrician will always be required, which is why this is a good career to research getting into. Whether you prefer the idea of commercial or residential work there will be an array of opportunities. So if you enjoy working with your hands, and enjoy the prospect of a job that's physically and mentally demanding you may want to preview the training required to get you on track to start your new career.

What education do I need to become an electrician?
To master the skills and knowledge to become an electrician, you will need to embark on an apprenticeship which lasts around 4 to 5 years. During your apprenticeship, you will receive vital training and experience to ensure your safety within a role which can be extremely dangerous.

The above career options are just some of a few routes you for you to consider in the area of construction. The three above roles propose opportunities within the US that have strong job availability now and which is also predicted to grow in the near future. Once you've leveled up and honed your construction skill, this will open up the realm of possibilities for you to eventually venture off on your own, to be your own boss and set up your own business. Other areas you may be interested in exploring as a potential career choice is agriculture, technology and science.

Staff Writer; Natasha Jacobs