The Four Things To Remember After You Leave College.
(ThySistas.com) Life after your teenage years can be a pretty scary place. Whether you've just graduated from college or you're moving out of your parent's place, a lot of stuff is uncertain at this time in your life. With so many big decisions to make, it can be intimidating that you are even being trusted to make them when you still feel like a teen! But it is also an exciting time where you get chance to truly become the independent woman you were born to be. That being said, a little help never hurt nobody!
Don't stress about finding your dream job
Once you leave school or college it can often feel like a race to employment. However, most people only stay in their first ever job for around a year. If you're not sure what you want to do yet,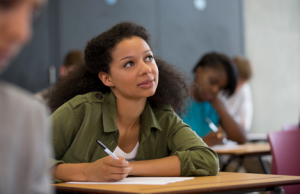 consider taking a more casual job such as retail or restaurant work. These kind of jobs usually don't require a contract detailing when you can leave, so they can be flexible to a certain degree. Another advantage is that they are not always full time, so if your dream job requires a lot of experience, you can take steps toward this whilst still paying the bills.
Don't compare yourself to others
Easier said than done, but comparing yourself to your peers won't do you any favours. If your best friends walks straight into a high powered office job, it doesn't mean you're not as successful as her. Success comes in all different forms and what's right for one person won't necessarily be right for the other. For example, if you are a natural introvert who needs flexibility, a job where you can work from home might be ideal for you. But if you are someone who needs structure and a fixed schedule, the office job could be your best bet. If you're not sure what you want, try out a few different things before settling on your chosen career. You never know until you try!
Don't rush into moving out
If you are one of the 36% who still live with their parents after college, you might be desperate to move out of there as quickly as possible. However, rushing into getting your own place has the potential to leave you in hot water financially. Renting can be a good option if you're planning to move around quite a lot – but remember that the only person profiting from your rent is your landlord. New home loans can help you to buy your own property which typically works out less per month than an average rented apartment.
Get supermarket savvy
Any money you earn will be precious, so don't waste it on an expensive lifestyle. That doesn't mean to say you still have to live as though you were a student, but there are still ways to have fun without breaking the bank. Avoid high end supermarkets and see if there is a local market near your home where you can buy some of your food. If your friends are in similar situations to you, ditch the expensive night out for a cozy meal together in your home. A bottle of wine from the local store can be up to $15 cheaper than the supermarket equivalent, so you can still get your kicks on a budget!
Staff Writer; Carla Jenkins