Our Children Require Vigilance.
(ThySistas.com) Some of us remember a time where we knew our neighbors. Elders were posted on the porch and they kept watch. Someone was always watching, and kids were never unattended. Yes, this sounds more like community…one we do desperately need back. Sometimes our community knew which officers they could trust or not. Some of us remember being asked about our day in school and the person asking really wanted to know; the question was not a formality. Many of us were taught about the harsh realities of the world around us, and some of our parents questioned everything. If we came home with a simple Band-Aid they wanted the details on how a scratch happened.
Yes, we found it annoying but it seemed as though our mothers saw everything. Some of our moms could walk in the house, and immediately know when something was wrong regardless of the front we posed. Today life poses more distractions, and as a result we are not as vigilant. It's not a condemnation of mothers, nor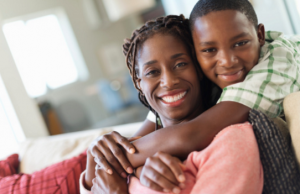 fathers, yet if we realize more is pulling on us we must adjust to be sure we have a clear view of our children.
Work, life, social media, the problems of others and our own insecurities are just a few of the things that can cloud our ability to see our children. We know that it sees that some police officers across this nation abuse their authority when it comes to people of color. To us this is nothing new, but we should never get use to the cries of a mother that has lost her child in the street. We cannot turn a blind eye to the influences of our children as they develop into people we know nothing about.
Mothers, and fathers, losing their children is never going to be ok. Yes, lately we have been focused on those that have lost their lives to violence, yet there is also another kind of death. So many of our young men are going into the prison system and some do not come out. One of the answers to how to protect our children is pay attention to them.
As mothers we must go back to asking questions when our children are young. Accountability, and responsibility has to be a part of their daily life. Many of us have to work so we may have coordinate with neighbors and family because we must be aware of where are children are at all times. Yes, it might seem like a lot, but if they are harmed we will know question what more could we have done. We have technology, and some of us have wifi in our homes.
Consider working on the laptop from the porch if the children are outside working. Just recently in Newark a 10yr old boy was chased by police with guns drawn. They mistook this child for an adult with locs when the boy has a low haircut. That child has been scarred by that experience. His mother was inside the house when the incident took place. The child was outside playing…as kids should be able to do. There was a time when our kids could go out and play and we didn't have to be outside as long as they were on the street or in the yard. Times are not the same.
We must be ever vigilant regarding our children, and the children in our community. The police, schools, and strangers need to know we are ever watching. They need to understand we will not tolerate our children being attacked regardless of the source. We cannot afford to let out guard down concerning our precious babies. I know it's not easy, but it's worth it. We are mothers of a community, and our continuation as a people is tied to our ability to protect our young.
Staff Writer; Christian Starr
May connect with this sister over at Facebook; https://www.facebook.com/christian.pierre.9809 and also Twitter; http://twitter.com/MrzZeta.