Failsafe Tips To Get Organized When Working From Home.
(ThySistas.com) Working from home is an increasingly popular option. If you've recently relocated from an office, or you're setting up a new business, here are some failsafe tips to help you get organized.
Create your workspace
If you're doing a bit of work at home, it's fine to spread your files all over the kitchen table from time to time. However, if you're planning on starting a business, or you're going to be at home every day, this won't do. Creating a suitable workspace will enable you to enjoy peace and quiet and increase your productivity. If you have a spare room, garage or loft, you could use vacant space to make a brand new home office.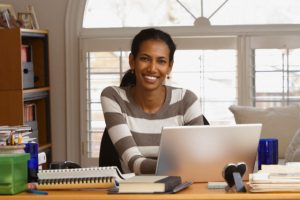 Once you've converted your room and painted the walls, you can start thinking about office furniture. You'll probably need a desk, some filing cabinets, and an ergonomic chair. To make your office more inspirational, add design touches, such as prints on the wall, plants, and rugs.
Invest in technology
Nowadays, most of us rely on technology to do our day job. If you have the latest technology, this often makes tasks much simpler and quicker. As well as the obvious investments, such as a laptop and tablet, you may also wish to consider other innovations. Modern software and Bluetooth headsets can make life easier. This is particularly relevant for those who need to contact colleagues or use video calling. It may also be a good idea to consider a modern document management system and learn about cloud computing. Using cloud solutions enables you to access, share and save information instantly.
Establish a timetable
When you go to work every day, you usually have a set timetable, and there's no reason to change this just because you've started working from home. Tailor your schedule to play to your strengths. For example, if you work more effectively early in the morning, start and finish early. You don't have to stick to a nine to five pattern, but make sure you have regular hours. You could start at 7 o'clock and finish earlier, for example. When you've started work, block out all distractions and focus on what you have to get done that day. Draw up a list and work through it. If you're more productive in the mornings, tackle your most demanding tasks as soon as your begin.
Keep on top of your finances
If you're working from home, you may find that your financial arrangements change. You will need to keep an eye on your taxes and make any necessary adjustments. If you've become self-employed, notify the tax office. Pay tax bills on time and consider spreading the cost, rather than paying an annual fee. Use spreadsheets to draw up monthly budgets, so you can compare outgoings with your income.
Working from home can offer several benefits, especially if you're looking for a better work-life balance. To make working from home work for you, it's essential to be organized. Set up a home office, invest in the latest technology and computing solutions, and work to a schedule.
Staff Writer; Sherry Hall