The Little Touches: Extras For Your Big Day That Will Make All The Difference.
(ThySistas.com) The build up to your big day can cause a lot of stress. But it will all be worth it in the end. The more effort you put in at the beginning, the more rewards you will sow on the day itself. So it's worth the effort of paying attention to the smaller details. These are what will make your wedding unique and special to you. So here's a list of optional extras which will go a long way towards making your wedding a day to remember.
Favours
Wedding favours will be much appreciated by your guests. Make them something representative of you and your relationship.
Napkins
Buy napkins in bulk, but add your personal touch to them. Wrap ribbon around them in colors to fit your theme. Perhaps tie them with parcel string for a quaint look. Cord, twine, hair bands – whatever you feel looks best.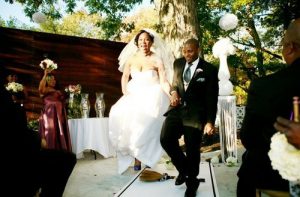 Guest Book
Your guestbook doesn't necessarily have to be a book. You could leave each guest a small card. Get them to write a fond memory or funny story about you and your partner on it. Provide a jar for guests to leave their cards in on the way out.
Bouquets
Have your bouquet specially made with all of your favourite flowers. You could consider getting each of your bridesmaids a smaller version of your bouquet.
Tables
Name each table that your guests will be sitting at. Make a theme of the names. Perhaps places that mean a lot to you and your partner or items that have special significance to your dating.
Place Cards
Personalise each place card. Add your guests names. Maybe use a photo of them or thank them for something they've done for you in the past.
Petals
Sprinkle petals over the guest's tables or maybe free them in an ice sculpture. Petals will always be associated with romance and what day is more romantic than your wedding day?
Tasting Bar
If you and your partner have a soft spot for the same drink, set up a tasting bar for your guests to try out different varieties of your favourite liquor.
Flowers
Offer flowers to your guests as they leave. Otherwise the beautiful displays and arrangements you've paid out for will just go to waste and be thrown out at the end of the night.
Order of service
Make sure that everyone knows where they're meant to be and when with personalised order of service cards.
Menu
Choose your favourite foods for the menu. Most caterers will be able to provide whatever you ask for. If your grandma has a particularly good recipe that you've loved as you've grown up, add that to the menu. Explain the backstory to your guests.
Cool it
If your wedding will be taking place in the middle of the summer, offer cool beverages, ice creams and ice pops to keep your guests cool.
Warm it up
If your wedding is in the cold, winter months, make sure there are plenty of hot beverages and soups available throughout the day.
Staff Writer; Emma Holder