Standing Out Alongside Male Colleagues In The Workplace.
(ThySistas.com) In 2016, you don't have to look far for stories of discrimination against women in the workplace. James Brown sang "This is a man's world", and he wasn't wrong. However, he also went on to sing "It wouldn't mean nothing, without a woman or a girl." He wasn't wrong about this either!
We women know that we add a great deal to the workplace. However, we also know that we have to work extra hard for our gender not to hold us back.
That being said, we don't just want to get by, and blend in, do we? We want to stand out! So, how do we stand out alongside our male colleagues? How do we achieve success, in spite of our gender? Let's look at a few ways.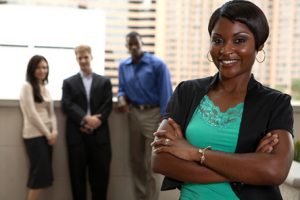 First of all, it should always be your priority to work your hardest. If you're often late, start setting off to work an extra 15 minutes early each morning. If you never seem to finish your tasks for the day, take one less coffee break. If you aren't reaching your targets, speak to your manager about anything that might help you out. This might be an assistant or a training course. If you don't ask, often you don't get. As long as you pitch what you need clearly, succinctly and professionally, you could well be surprised by the outcome.
Along the same lines, consider how you present yourself. It is not your duty to wear makeup every day if you don't want too. You should only wear heels if you like wearing them, and like how they make you feel. But no matter what you are wearing, look smart and look appropriate for the task at hand.
Next up; how is your skill set looking? If you haven't added to it since you left school, it's time to change that. Men aren't your only competition- so are younger people coming into your industry. They have the latest training, and you need to keep on top of this too. So, what skills could help you in your career. How about a second language? An English speaking course can help you brush up on your language skills if English isn't your mother tongue. Or, if the company is planning on opening a new office in Spain next year, learn Spanish! You show initiative, and will likely be first in line for a transfer above any colleague who doesn't speak the language.
Similarly, is there something you can offer to do that makes you stand out. Volunteering to train in First Aid, or being the office Fire Marshall will stand you in good stead with your employers. It's not about the task- it is about showing that you are hardworking, and committed to your workplace.
This next point is one that shouldn't have to be mentioned, but sadly, it does. Bullying in the workplace is a real thing. This is a fact. Do you know what else is a fact? That you should never, ever stand for it. HR departments are set up for this exact reason; so you have a place to report wrong behavior.
Along a similar theme, it is also important to know your rights. Being informed is never a bad thing. Read contracts carefully, and don't be afraid to ask questions about anything you aren't clear about.
Staff Writer; Amanda Wilson