3 Awesome Gifts For The Foodie In Your Life.
(ThySistas.com) If you have someone in your life that adores food, there can be no better gift for them than something to tickle their tastebuds. If they love cooking up a gastronomic storm, trying weird and wonderful cuisine, or trying out the newest local restaurants, think about a foodie gift for their next birthday. Many of these gifts won't be unwrappable, but they will be thoughtful and bespoke to the recipient. Sure, you could opt for a voucher or whack a bit of money in a card, but where's the consideration in that? Put a smile on your pal's face and opt for one of these gifts for the foodie in your life.
Go Gourmet
There is a trend to choose a gourmet treat that can be delivered straight to the birthday boy or girl's doorstep. You could put a smile on their face by sending them a pretzel box. This isn't just any old pretzel, this is a gourmet set of chili salt, rosemary and wheelhouse gourmet pretzels. Oprah has loved them so much that she put them on a list of her favorite things. Or perhaps your nearest and dearest loves all things retro. Some eggos and twinkies presented in a hamper or gift box could lift their mood as they hear their doorbell ring. Or maybe, you could gift two dozen oysters locally caught that morning and ready to be eaten at a gourmet lunch that you will be preparing for them.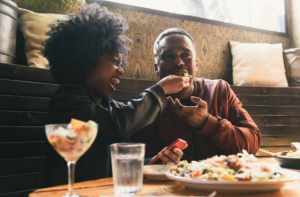 Take Them Out
Think about their favorite cuisine and find the most sought after restaurant that caters to their taste. Vietnamese restaurants have morphed from street food to more fine dining. Or perhaps a trendy sushi bar is more to your loved one's liking. If they adore excellent eating, check out the latest Michelin Guide, and choose a restaurant that has been highly commended. These restaurants offer tasting menus to allow diners to experience signature dishes. These restaurants can get booked up well in advance, so get your reservation in early.
Some foodies may shun the more high-end dining options in favor of a more rustic and authentic experience. Take them to Chinatown, where the locals rustle up some home-cooked dishes. Here, they will experience flavors that have been passed down for generations.
School Them
While heading to school might not seem like the most exciting birthday present in the world, a foodie will love nothing more than learning from a top chef. Cookery schools range from the super informal to the highly regimented. For a taster session, opt for a half-day cooking class with a chef that your friend admires. If they've got a chef's cookbook on their shelf, they will relish the chance to meet them in real life. If your friend adores baking, consider a cake decorating session with a top patisserie chef. If they are crazy about seafood, take them to a knife skills session where they can learn to fillet all sorts of fish.
Show your friend just how much you care by gifting them something meaningful. Use this guide to inspire a whole host of awesome gift ideas for your foodie pal.
Staff Writer; Laura Gold