How To Stay On Top Of Home Repairs As A Busy Mom.
(ThySistas.com) When you're a busy Mom, the idea of things going wrong in your home can be a complete nightmare. You may think, 'how am I going to sort out these problems when I don't have the time or money to do so?' but you have little choice, as you have to keep yourself and your kids safe from harm. However, there are some ways that you can stay on top of home repairs as a busy parent, and they aren't as time-consuming (or money-consuming) as you may think, so read on if you want to know more!
Buy items with a warranty
If you want to save yourself the money that comes with getting home repairs done, the best thing that you can do is to buy items that include a warranty, or some kind of monthly insurance that you can pay into. Whilst it may cost you a few dollars a month, it will really help you when it comes down to any issues, as you won't be stuck with a huge lump sum that you can't afford to pay off (and you may even have to get a loan to cover this). A good example is this AC company, who discuss the usefulness of warranty and help their customers to fix things themselves before they send anyone out. Perfect for those Moms who can't afford to have time off work to wait for a repairman!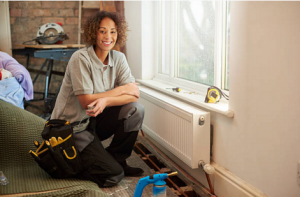 Utilize word of mouth
As a busy parent, word of mouth is your best friend when it comes to avoiding debt due to repair works. If you know some of your neighbors, or you have friends living nearby, why not ask them where they got their home repairs done? You could find some local tradesmen that you haven't come across before, who could do the work for you at a cheap price, and they may even reduce the price a little more if you have a mutual friend. Don't underestimate the power of word of mouth, and ask those close to you if they know of anyone local. You won't regret it when it saves you the time of looking for a professional.
Do it yourself on weekends
If you're really on a tight time schedule and budget, you may have to look into doing the repairs yourself on the weekends. If you're not usually one for DIY, don't worry! Some home repair jobs are a lot easier than you think, and there are a lot of tutorials out there on the internet if you're worried about your repair knowledge falling short. This way, you'll learn some new DIY tips, you won't have to wait around for a repairman, and you'll be able to do it in your own time, and at your own pace. Learn some skills, and try your hand at it, you don't know how good you'll actually be!
So, if you want to stay on top of your home repairs as a busy Mom, but don't know how to do it on a limited time and budget, try these simple tips! Good luck making your home perfect again!
Staff Writer; Paula Washington