3 Tips For Building Wealth and Riches.
(ThySistas.com) Who wouldn't love to be excessively rich without having to build an empire first and only enjoying the fortune once you're close to 60? We would take better care of the world, of course, give lots of it away to charity each year and, in general, be a much better person than those who are ultra-rich today.
While it is great to keep dreaming and hoping that we win the lottery, there are actually ways to build a lot more wealth than this. If you are in the process of investing some of your savings or if you'd just like a few more tips for when you have money to put aside, you've come to the right place.
Here is a handful of ways to build your fortune a bit faster so that you might be able to lean back and call your robot servant for another drink long before you hit 60.
#1 Learn to invest in the stock market
Sure, making your own investments and stepping outside of the safe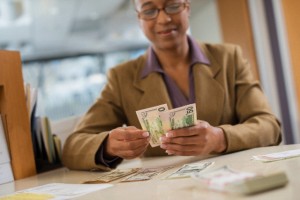 index fund may seem a bit frightening but it's key to building wealth fast. There will be higher risks, for sure, and you should definitely educate yourself a bit first before you go all in.
Read up on how to trade, set a goal for yourself in terms of percentages each time you buy something, and let the system know that you want it to sell after, for example, 5% each time. That way, you have the opportunity to buy and sell a bit quicker – and you're not taking too much risks as your stocks will sell automatically as soon as they hit the target.
While you could go ahead and buy anything right now as it is ridiculously easy, it's always better to read up on it first and start with smaller trades. Have a look at this article to get started and keep in mind that you will learn a lot while doing it as well.
#2 Invest in property
Back in the '80s, some of the richest people today made one of their best decisions: investing in real estate right before the prices went through the roof. The problem with real estate investments, and any kind of investment, really, is that you never know when the bubble will pop.
You might as well buy now before the prices soar even more, in other words, and read up on how to invest in real estate investment trust as well. This is definitely a bit different than just buying real estate, however, and you can see it as backwards transition from investing in a stock market trust fund to trading actively. Have a look at the link above and you'll know what we mean.
#3 Continue to save
While the money you put aside each month surely won't make you a millionaire anytime soon, it will contribute to everything you're able to invest in the future. If you simply invest what you have now and neglect your savings, you won't be able to put as much in as you would have if you just continued to stick to your savings plan.
Try to increase it a bit as well, though, or at least when your income increases. That way, you'll have a bit more to invest and, little by little, you'll watch your riches grow.
Staff Writer; Sherry Adams