Make Your Fishing Trips More Enjoyable.
(ThySistas.com) Unlike other pastimes, fishing and hunting have become very popular over the years. Apparently, there are now close to sixty million fishermen and women engaging in angling on a regular basis in the United States. Of course, out of these, only about sixty percent have fishing licenses, and that's because people under the age of sixteen and those that are past the age of sixty-five are usually exempt from paying the fee to get a license.
But the problem with angling is that not everyone can truly enjoy it. If you've ever gone fishing yourself, you probably know that it requires quite a bit of patience, and in moments when you're really waiting for the fish to bite, even calls for complete silence.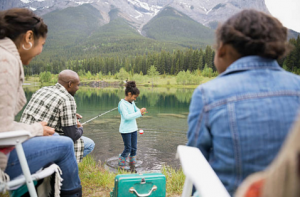 All of this can make it a less enjoyable activity for the whole family, especially for kids. Here are a couple of tips that you might need if you're looking to engage your whole group of friends and family in your favorite pastime or if you're looking to learn more about fishing yourself.
Bring plenty of snacks and clean water
Both kids and adults can become cranky when they're hungry, so it is a good idea to bring along as many snacks as you can pack in your bags. On top of that, dehydration is a serious and life-threatening medical condition. You have two ways of going about things if you want to make sure your family and friends always have clean water.
You can either get it from home, but that would be somewhat counterproductive as you might need to carry it from your car to the fishing spot, or you can get a portable water filter that can be used with virtually any source like streams and rivers.
Make fishing fun
Kids might get bored if you sit in your kayak all day long and hardly make a sound to try to get your hands on your dream catch. So feel free to get them engaged, too, by purchasing something called a rod and reel combo toy. Yes, those exist, and the best thing is that they sometimes actually work. Despite having limited capabilities, the reels on these small spinning poles are functional, and who knows when a child in your group might reel in an actual fish?
Make a list of things or activities that will keep everyone entertained. If the rest of the group isn't into angling at all, leave them be. It's better for them to spend time outdoors however they want, whether it's playing a game or just running like crazy, than forcing them to do something they don't like.
Gadgets can make fishing fun
Part of the bad reputation that fishing has gained over the years according to which it's a boring activity comes from the fact that anglers hardly use any modern technology.
That's not true at all, especially these days. Fishers use things like marine chartplotters, GPS units, fish bite alarms, and fish finders, and all of these simplify the whole process and makes it more exciting. Take fish finders, for instance. A castable one can seriously make the difference between a successful fishing trip and one where you have to get back home empty-handed.
Staff Writer; Lois Carter