Careers in Caring – People Taking Care of People.
(ThySistas.com) There is a job to suit every type of personality; sometimes it just takes a while to find it. When you are raising a family, taking care of everything at home, nurturing your relationships and growing as a person, you might not have even thought about what you might like to do when your kids are grown, and you have some more time to yourself. Many women choose to head into full-time work if they weren't already there. There are some careers out there that are suited to caring individuals and worth exploring once you are ready.
Nursing. On the face of it, it might seem like you're going to have to spend years in training and then in placements before you're ever going to see the inside of a hospital ward. You can take up nursing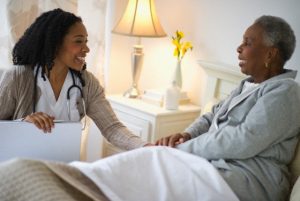 courses before your family is grown up and be ready to hop straight into it when you're ready to make the commitment. Caring in nursing is pretty much an essential quality, the care you provide will make an impact on hundreds of people per month. Though the hours are long, the good work is plenty too.
Teaching Assistant or Teacher. An active interest in your pupils, their learning styles, how you can help them progress and achieve is part and parcel of the job. This is another career that will take some training but can be completed with online degrees or night lessons – whichever one suits your life right now. Teaching in any capacity allows you to impart knowledge on to the next generation and that is pretty special.
Perhaps you would prefer to have your own business rather than have set weekly hours. Starting a home care business might be precisely what you need. Arranging to visit the elderly or the lesser abled and take care of their needs, maybe run errands and personal care is a very noble thing to do. You can set your hours, work around a younger family, set your own prices and only take on new clients when you want to. The cost of care for the elderly has risen in previous years, so many can't afford the same retirement they once could. Providing this service opens up a lot of options for them too.
Childcare. It is the perfect and most obvious choice for mothers that want to be at home and around for their children too. Getting qualified and registered with all the appropriate governing bodies is essential, but once you have done that you are free to start your own child care business. This one might be a little more high energy and loud that the other suggestions but so worth it.
Careers in caring provide a service in two capacities, it fulfills a job role, but it also gives people contact and support from other people. The ability to look after someone in their hour of need is something extraordinary and it takes a dedicated person to do so. So have a look around and see what might suit your lifestyle.
Staff Writer; Shelia Parker