The Top 6-Month Trade School Programs in the US.
(ThySistas.com) A lot of people are now opting to invest their time and money away from traditional universities and want to engage more in vocational jobs that don't require a bachelor's degree, but this does not condone the fact that vocational jobs are easily attainable without any sort of basic qualification. In this article, we have listed the Top 6 Month Trade School Programs in the US.
Vocational jobs provide a broader perspective of educational options, as well as, knowing one's own skills thoroughly. Along with having the knowledge in what is needed in the market. The opportunities to learn about these skills through vocational and trade schools can be abundant. The main advantage that comes with engaging in trade schools is a limited investment of time that ranges between six months and two years. Not to mention the low tuition that goes along with it.
1. Auto body technician:
If you drive down the road of a big city you will, more often than not, be witness to a major accident. Whether it is full frontal damage or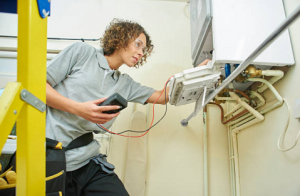 just a tiny dent, the owner will want to get it repaired. Because of the advanced tech and design that cars possess nowadays, it is important that people who handle these automobiles are qualified and know what they are doing. A course in automobile repairing will enable you to learn about restoring vintage and damaged vehicles, straightening damaged frames, and painting vehicles.
2. Carpentry:
Wood is useful in a number of ways in the field of construction which also includes furniture creation. Carpenter work is always available. If you enjoy being creative and working with your hands while using wood as your primary material, then a short course in carpentry is what you will need to engage in. The skills you will learn are framing, roofing and exterior finishing. If you want to engage in intense training then, you can dwell in niche training sessions such as maintenance of buildings, furniture or general repairs.
3. Electrician:
If you have the apt qualifications in this area, coming across a good electrician job is not that difficult. This is also one of those careers where you will not have to spend a lot of time and energy that is involved in an extensive college course. A six-month course will leave you with enough skill and experience for you to go into the 'real world' and get a job. In the courses you will learn how to handle control systems, power electronics, digital and analog electronics.
4. Car mechanic:
To anyone who wants to pursue the path of an automotive technician, a six-month course is enough training to deliver the basic knowledge or skills you will need in this field. You could either choose to specialize in one area or choose a general course; the choice is up to you. You will need a high school diploma to enroll in this course. Through this training you will learn how to engage yourself in the workplace; you will acquire most of the skills under the tutelage of a qualified automotive service instructor.
5. Welding:
Welding is an important skill when it comes to construction and it does not require much time to be spent in school learning this ability. There are a lot of programs that teach you the basics and techniques that go into learning to weld; mostly they will last up to six months.
6. Plumbing:
Plumbing falls under the category of one of those occupations that will last for a very long time. Plumbing trade training is able to offer you the knowledge and skills that teach you how pipes work and how to install them in a house. You will also learn how to plug in kitchen appliances such as washing machines and ovens, as well as, manage the safe handling of steam under high pressure.
Conclusion:
The Top 6 Month Trade School Programs in the US listed above, show that no matter what preference you have, you can always find training programs where you can wrap up within six months and get to work. However, you will need to work as an apprentice under a trained and experienced mentor during the initial years of work so that you will understand the profession better.
Staff Writer; Natasha Baker