Cardi B from Stripper to Superstar.
(ThySistas.com) Now while I can not speak for you all I will say majority of us have been following Cardi B since her very dramatic transition from a star of love and hip hop to a superstar toping the charts. One thing we know for sure is that Cardi B has no problem at all keeping it gutter, yall know you can't take the Bronx out the girl. She is very open about her life, and makes it very clear that she is unbothered by the opinion of those who hate on her grind. She has been very vocal about her starting to strip at the young age of 19, but before that she was a member of the Bloods Street Gang at the age of 16.
While many would not agree Cardi said she became a stripper in order to escape poverty as well as domestic violence. At the time Cardi was with an abusive boyfriend and had taken enough from him, so she decided to take the advice of her former employer at a supermarket to look into stripping. Cardi B views that becoming a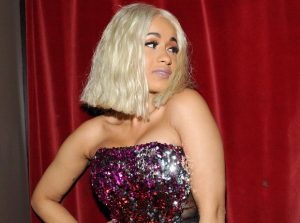 stripper made her a better person in a way she said it helped her to be able to go back to school. Stripping was also her only way out of an abusive relationship at the time, she shared an apartment with her boyfriend and that was indeed her only way out, even though she eventually dropped out of college.
Back in 2013, Cardi B began to gain lots of publicity due to her social media accounts going viral from videos and pictures of the young star. In November of 2015, Cardi made her musical debut, followed by her first mixtape in March of 2016. In 2015 Cardi B also joined the cast of Love and Hip Hop NY, and is now considered the breakout star of the sixth season. Once she began to take her music and career more serious she decided to leave the show, she thought it depicted her in a negative perspective. As far when she and Offset made it official its not clear but it started as early as 2017, the couple is now engaged.
Offset surprised Cardi on stage at a performance at Powerhouse to sing their song but also asked for her hand in marriage and she said yes! Soon after the couple were engaged the two faced some troubles when rumors of a scandal came to surface. Reportedly Offset's cellphone was hacked and a video of a very naked Cardi B dancing have been exposed as well as the hottest tea of all it is a video of an unknown woman naked in the hotel room with Offset which clearly is not Cardi. She later confirmed that the rumors about Offset were true but despite it all she was still going to stick with her man., and they were going to find the hacker and make them pay. Through all negativity and the opinions of the public could not hinder Cardi from climbing to the top.
Staff Writer; Myra Moore