Pearls Are A Girl's True Best Friend.
(ThySistas.com) No, we're not talking about actual pearls, we're talking about your pearly whites. Your smile and in turn your teeth are actually your best accessories. We've posted a few articles about going natural and forgetting about the makeup and the beauty accessories. Well, there is nothing more natural than a pearly white smile that absolutely stuns everyone who sees it. Here are some of the key benefits of keeping your pearly whites…pearly white.
Cool And Confident
People who smile more come across as more confident. You are happier with yourself and what you can offer the world. So, by showing people your sparkling teeth, it can have a profound and distinct psychological impact on your life. You will see new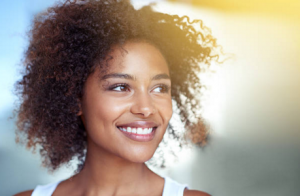 opportunities are presented to you at work, and you might even find there is an interesting impact on your personal life too. After all, people are certainly going to be more attracted to someone with a beautiful white smile. Why?
Be Different
It's fair to say that a lot of people don't understand the importance of a beautiful smile and good oral hygiene. That's why you constantly see individuals who never bothered with braces when they were younger or leave dental issues to get worse. But you don't have to. Since there are nationwide locations for dentists and dental emergencies, you never have to let your teeth look anything less than perfect. In doing so, you'll stand out from the crowd in every aspect of your daily life.
Youth And Beauty
Both of these ideas are tied beautifully into white teeth. As we get older, our teeth do start to yellow, almost naturally. You can't fight it forever. Eventually, they fall out, and you need dentures. As such, our idea of youth is always going to be tied to white teeth. Look at children as an example. Young kids almost always have beautiful white smiles that almost glisten in the sun.
As for the beauty aspect, white teeth are just seen as conventionally more attractive. If you want to look great, you need white, straight teeth. That's why people pay a fortune to have their teeth whitened and straightened. The treatments for this can range in the low thousands!
Draws Attention From Other Features
If you're going au naturale, there might be certain parts of your face that you don't like. Perhaps you think your nose is too big or maybe your cheeks feel chubby. It's possible that you have heavy bags under your eyes and wrinkles already starting to show across your forehead. If that's the case, you want to draw attention away from features that you're unhappy with. Instead, you want to bring focus to your beautiful smile. White teeth will do just that particularly if they are bright enough that people always gaze at them. Don't forget that when people are talking individuals will either look in their eyes or to their mouth. So, you do want to make sure it's attractive.
As you can see, then there are lots of benefits to having a Hollywood smile, and you don't even need any beauty products to get it.
Staff Writer; Latasha Hall