Travel: 10 Black Owned Bed and Breakfasts you need to know About.
(ThySistas.com) African Americans alone spend over $40 billion a year for business conferences, weddings, vacations and other events, yet very little of that spending comes back into the African American business community. Two groups are making sure this trend is changed. The U.S. Black Chambers (USBC) and the National Association of Black Hotel Owners, Operators and Developers (NABHOOD) have agreed to work together to raise awareness of the importance of patronizing black-owned businesses. Striving to do more business with black-owned hotels will result in increasing jobs and cultivating more black executives and owners within the same industry where they are spending billions every year.
According to NABHOOD, there are more than 500 black-owned hotels and hospitality venues in the United States, and nine in the Caribbean, Ghana and Liberia. A conscious effort to be aware of these black-owned businesses and tap into their resources is an important step in increasing business with this segment and bringing more dollars back into the black community.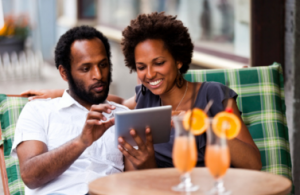 1. Arbor View House (Greenport, NY): Near the wineries in upstate New York, this B&B wineries is known for their award winning gourmet breakfasts, boutique hotel accommodations, fireplaces, heavenly beds, and great concierge service.
2. Quintessentials (East Marion, NY): Just two hours from New York City, this B&B features a European lifestyle spa for a completely rejuvenating experience for the body, mind and spirit.
3. Inn of Treasured Memories (Cape Cod, MA): Designed for comfort and unwinding, this B&B offers guests many unique options. They can relax in the quiet atmosphere of the Living Room to read, think, and talk. They can gather and mingle in Hank's room to play cards or board games, or they can stay fit and have fun in the heated water resistance pool.
4. TheLRoomBNB (Durham, NC): This newly renovated 1920's home with three bedrooms is located in Old North Durham, a flourishing area within walking distance to trendy restaurants, popular nightclubs, parks, unique shops, Duke and North Carolina Central Universities
5. Morehead Manor (Durham, NC): Originally built for the CEO of Liggett and Meyers, this splendidly redecorated, 8,000 square-foot, Colonial Revival Style home is located within walking distance to the Downtown area, the Durham Bulls Athletic Park, the Durham Performing Arts Center (DPAC) and historic Brightleaf Square.
6. Akwaaba Inns (Various Locations): This upscale lodging collection is owned by husband and wife team Glenn Pogue and Monique Greenwood. The couple fell in love with inns when they stayed at their first bed and breakfast back in the early '90s. THey now have locations in Washington, DC, Brooklyn, NY, Cape May, NJ, and more.
7. Hubbard Mansion (New Orleans, LA): Located on the historic St. Charles Street, this B&B offers five exquisitely furnished suites in the Main House, and two executive apartments perfect for long-term stays. The beautiful rooms recall the grandeur of 19th century New Orleans.
8. Welcome Inn Manor (Chicago, IL): This B&B is just minutes away from many other historic and significant places and landmarks throughout Chicago. Their services include a free full hot breakfast, and morning drop-offs to anywhere in the city.
9. Ye Old Manor House (Elkhorn, WI): This B&B is the perfect place for a night's sanctuary, a multi-day, weekend, week, or longer retreat, an idyllic location for intimate weddings, and a great venue for meetings, retreats, and other gatherings.
10. Magnolia House Inn (Hampton, VA): Located in the waterfront downtown area, this historic Queen Anne Victorian offers 3 spacious guestrooms with the most sought after lodging experience for business and leisure travelers.
With the holidays and new year fast approaching, it may be time for a road trip or flight out of town to get away from it all. Why not spend your black dollars with
black owners
? Here are 10 black owned bed and breakfasts that wont disappoint.
Staff Writer; Amber Ogden
One may also view more of her work over at; AmberOgden.com.
Also connect via Instagram; 1amberogden and Twitter; MsAmberOgden.