Stress Takes No Prisoners…It Can Kill.
(ThySistas.com) We live life at a very fast pace. There is always something to do, or someone to attend to.  As women we tend to feel the pressures of this daily as many of us manage education, careers, marriage, children and community involvement.  It seems that there is never enough hours in a day to meet all the demands of our lives while tending to our own personal needs.  Society can be a harsh judge in many senses.  While we are looked down upon if our homes and children aren't pristine, by the standards of others; we also receive a daunting eye if we on our own person appear to be falling apart.
This sounds like the challenge, and in some cases an expectation, to be perfect.  Ladies, there is no such thing as the perfect employee, wife nor mother.  Allowing these demands gives birth to a stress that put us outside of our mind, and render us in a state of turmoil within our body.
The body has ways of warning us that stress is causing negative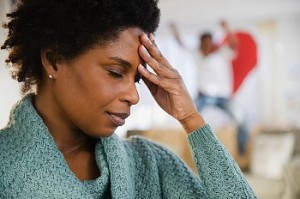 pressure.  If you notice that you are dealing with constant: headaches, nose bleeds, fatigue, increase in blood pressure, loss appetite or increased appetite, over activity or lack of activity, change in attitude, dynamic sleeping pattern changes, ulcers, sometimes cold symptoms, and changes in menstrual cycle.  There are many other ways that stress can manifest itself, and all of them can result in mental and physical damage. The wages of stress can destroy relationships, and isolate us from the life and people, we know and love.  Sometimes the results of stress can cause us to seek medical attention, or demand it if hospitalization occurs.
When we see signs of stress we must slow life down.  I know that can seem easier said than done, but it's a matter of determination.  We cannot help others if we ourselves have become a cast away.  We must reject the society standard that everything and everyone must come before us taking care of ourselves both mentally and physically.  There has to be a balance between the demands of our life, and the actions we take to meet those demands.  Taking designated time out of your day to tend to your health will allow you to destress, and handle the day with more peace.  Below are a few basic tips to ward against stress.
Take the time to meditate before the start of your day, and at the end.
Eat healthy, and drink lots of water
Spread responsibilities over the week verses pilling it up on a couple of days. Empires are not build in a day, and neither are homes.
Communicate your needs to your loved ones.
Engage in conversations that feed positive energy.
Know when to shut everything down.
Allow yourself time to take a good bath.
Try to get adequate sleep.
When it seems as though things are getting to taxing stop, breathe, and re-group.
Slow down.
We want to give our best to those we love, but we can't do that if stress threatens to breakdown our body and mind.  It's time to look towards excellence and leave perfection behind.  Taking care of you, and putting your health first means you can be all that you need to be for others. Life is always moving at a fast pace, however you must slow down for self.  Stress doesn't just hinder our life…it can actually kiss us.  Love yourself enough to be here for those you love.
Staff Writer; Christian Starr
May connect with this sister over at Facebook; https://www.facebook.com/christian.pierre.9809 and also Twitter; http://twitter.com/MrzZeta.