Five Tips on how to Move Past Divorce.
(ThySistas.com) Moving on is hard to do no matter who you are. Whether it be from a job, a place or a relationship; it's never really easy. One of the most difficult experiences in life is getting over a divorce.
It is not fun having to realize that your hopes and dreams are no longer connected to a person you believed would have your back for life. But things happen and in those moments, the process of letting go and moving on is necessary to live a full existence. Experts have said that the end of a marriage is like the death of a loved one and in so many ways it most certainly is.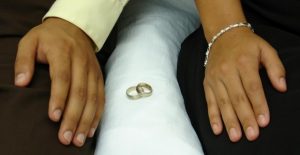 I've known a lot of people who have unfortunately had to end their marriage. I've been there through all that they've been through and I've seen the struggle.
So if you are going through a heartbreak of this magnitude, or know someone that is, here are a few tips on how to heal, cope and take care of yourself after going through a divorce.
Grieve- It's Okay
One of the things that people may feel that they should not do is grieve, but that is so far from the truth. You have to allow yourself to grieve the loss of the relationship. It is okay and does not make you weak. You have to go through this process in order to come out completely.
Deal with Your Feelings
You will feel a lot of things. From anger to hurt to depression to insecurity, it's all there and you have to deal with them. Work through how the end of your marriage made you feel. Don't try to suppress them because I guarantee you that they will most certainly come up for you later down the road.
Talk About It
How you do this part is up to you, but having someone to speak to about how you are feeling is paramount. This can be a trusted friend, a pastor or a therapist. Talking to someone will help you sort out all kinds of emotions and that is important for clarity on the situation and on determining what your next step will be.
Evaluate Yourself
This can be hard to do because no one really wants to look at the things that they don't like about themselves but it is necessary. This is not a time to be judgmental or hard on yourself. Rather, it is the time to look at whom and where you are and make the choice of who and where you want to be. Evaluating where you are and who you are is the first step in reinventing yourself.
Reinvent Yourself
Naturally, this is the next step in any process after a major life change. You will naturally want to do things differently or change things about yourself. Whatever you feel that is for you embrace it. Don't be ashamed or afraid. Do what you feel needs to be done to live your life on purpose after your divorce.
There are so many things involved in moving past divorce. For most, it will not happen instantly, but if you work through it and incorporate these tips, you will get there.
Staff Writer; Rasheda Abdullah