Little Luxuries – 6 Romantic Ways To Treat Your Partner.
(ThySistas.com) Feeling a little loved up? Wanting to shower the object of your affection with something a little more special than gas station flowers and a dusty box of chocolates? Don't worry, we can play Cupid! Here are six romantic ways to treat your partner:
1. A Little Box Of Treats
If you're not sure exactly what your partner would like, but you know you want them to feel special, why not treat them to a hamper? A luxury hamper is going to be filled with goodies that anybody would like and will be sure to impress your loved one. Maybe you could even try out everything in the hamper together on a date night? 
2. Their Favorite Thing
Sometimes, the very best treat you can give somebody is their favorite thing. The thing they love the most, that makes them smile, even after the darkest day. Their favorite chocolate bar, a bath bomb, mac & cheese – everybody has a favorite 'go-to' thing when the poop hits the fan. If you're low on cash, but full of love to give, this is the perfect route to go down when it comes to treating your loved one.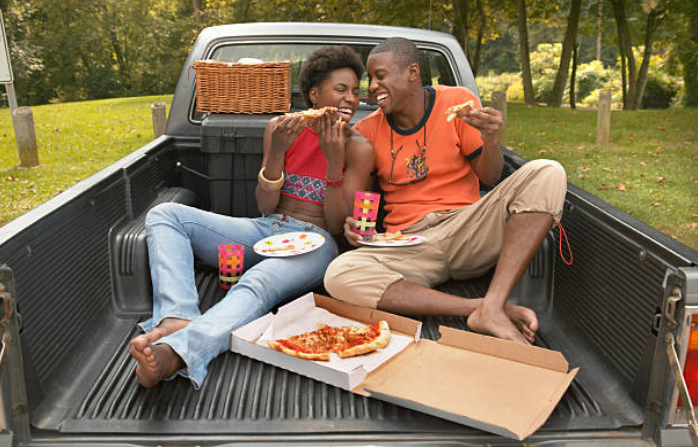 3. Time Off 
9.8 million working mothers in the US are currently struggling with workplace burnout. No doubt many fathers go through burnout too. Raising children and having a career is hard – who knew? 
If you have kids and you're both shattered, the best thing you can probably treat your love to is some time off. A few hours to have a bath or a shower, to watch TV, have a coffee with friends, or even just to have the world's most luxurious nap. 
Without expectations, simply give your partner the chance to take some time for themselves. They will love you for it. 
4. A Home Cooked Meal
Everything is so convenient these days we are all eating out or leaning on oven food – anything quick and easy, right? 
For a change, why not give your partner a home-cooked meal that has all of your love poured into it. Something indulgent and delicious paired with a nice drink, some fairy lights perhaps, some nice music – how could they not love your efforts? 
5. A Getaway
Traveling together increases your bond and gives you new memories to treasure. If you're both gagging to get to adventuring and exploring, a romantic getaway is the ultimate treat for your partner. This is a particularly perfect gift if you have a big occasion coming up, like an anniversary. 
6. Time With Loved Ones 
Getting to know your partner's friends and family can be a bumpy road. However, it is an important road when you truly want to form a strong partnership together. For that reason, a great treat could be gifting your partner some time with their best friend, or their family. A spa day, some beers paid for behind the bar, an adventure afternoon – these are all great surprises for your partner to enjoy with their loved ones. 
"There is only one happiness in this life, to love and be loved." – George Sand
All of the above ideas can help you treat your partner the way they deserve to be treated. However, don't forget that if you made the effort to read an entire article on ideas about treating your partner, they are already incredibly lucky to have somebody like you. They are sure to be impressed however you choose to show them you care. 
Staff Writer; Susan Adams