Be Happy with the Person You See in the Mirror.
(ThySistas.com) It's a new year and most people are racing to change things about themselves either through their physical appearance, financial status, spiritually or mentally.  One changing is not always a bad thing especially for the betterment of self.  However, the first thing you should feel deep down in your soul when you look at yourself in the mirror daily, is pure happiness.  Before anyone else or anything can make you happy, it first starts with you.
I come across so many people (women in particular) who compare themselves to others and thus their need to change, begins.  For example, women compare their bodies and looks all of the time towards other women.  They'll see the attention that Kylie Jenner gets for curvy body and plump lips and start altering their body parts to mimic her.  If those same women were truly happy with themselves, they would be happy with themselves and their appearance and keep it moving.  Change can definitely be expensive once you start altering your body parts.  You were born beautifully just the way that you are.  Everyone is not meant to be curvy or bootylicious like Beyonce and J-Lo.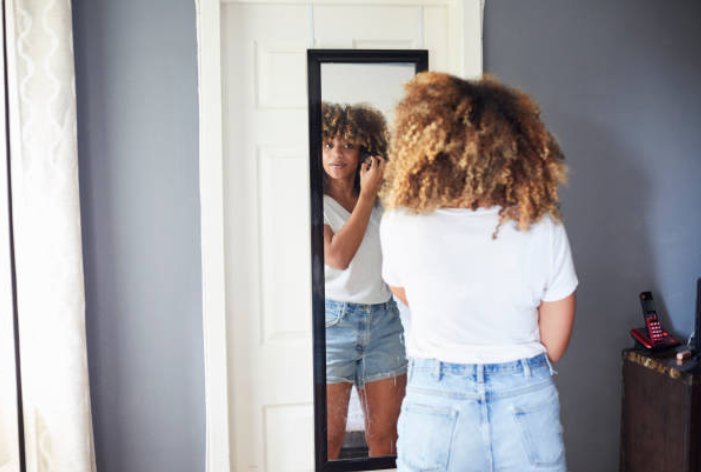 I've seen women compete with one another in relationships that they deem are "goals" and start copying everything that they see or assume is going on.  This falls in line with the saying, "Keeping up with the Joneses."  We easily saw last year that our "perfect" couple, Will and Jada Pinkett-Smith was caught up in an entanglement.  But for so many years, couples have tried to look and do the same things that the celebrity couple has done, to make their marriage or relationships, "work."   Your relationship is different than anyone else's.  Do what make you and your partner happy!
If you find yourself working in an over-saturated industry, do what makes you stand out and do what makes you happy.  As an influencer and blogger, I can't tell you how many times I see women in my industry doing things that's popular or trendy and they don't even like doing it.  Social media is a powerful tool and one can easily be influenced to do things that ultimately will make a person unhappy.  This doesn't have to be you.  Don't create content that will, eventually will make you unhappy just to gain new followers.  Create content that is authentic to you, provides value to your community and most of all, MAKES YOU HAPPY!
I'm not saying that you're not happy with yourself if you do certain things that other people do that you like.  I'm saying, do a self-check first to ensure that you are initially happy with yourself and not merely copying someone else and thinking that you'll be happy.  Sorry it doesn't work that way.  I can remember several times, years ago, when Halle Berry and Toni Braxton had pixie haircuts and I would run to the beauty salon and try to get the same cut as them.  I was extremely happy with myself. I just knew that their hairstyles would look great on me as well.  That's innocently copying them, nothing is wrong with that.
Every day from this moment forward, look in the mirror and say positive things about yourself.  If you see something that you don't like about yourself, change it but create change because it genuinely makes you happy.
Staff Writer; Felicia T. Simpson
One may also connect with this sister online over at; FTSimpson.com.