Challenges Gone Wild and Stupid.
(ThySistas.com) Remember the game "Truth or Dare"?  Imagine some of the craziest things you have been asked to do as a result of that game.  Now…imagine the same game with millions of others involved. Congratulations! You officially understand the meaning of a social media challenge. These games are usually created on Twitter or Snapchat and ask for people to do some pretty outrageous tasks.  Games are fun and enjoyable until they start to negatively affect you and other people.  These challenges are not only causing physical harm to people, but they also distract society from pertinent issues and news.
The "dare" part of this famous game usually entails some type of physical activity that is probably embarrassing: run, jump, get naked, etc. Is this shocking? No.  Most, if not all, of these social media challenges involve an action as well.  For example, the recent "ice cream challenge" has people going to random supermarkets, opening ice cream containers, licking the top of the ice cream, replacing the top on the ice cream, and placing them back into the freezers.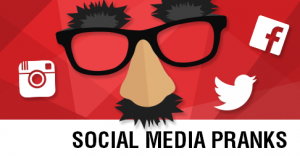 This challenge has also led to people spitting in Arizona Ice Tea containers and drinking mouthwash just to spit it out back into the containers. Challenges like this can cause physical harm not just to the person performing the challenge, but others as well. Those licking ice cream have the ability to affect hundreds of others with bacteria and sickness and along with possibly going to jail as in the case of a young lady from Texas. Dares and challenges are great things to experience, but they should not affect any one but the person doing it.
While the "dare" is happening, the "truth" is not exactly at the forefront of people's minds.  Why?  It is much easier to accept something that is considered fun and entertaining than something that can possibly cause depression or actual thinking.  These challenges have done an exceptional job of distracting society from current problems. Immigration issues at the Mexico/US border have large amounts of people without food or proper hygiene materials to care for themselves. 
In Virginia, who recently had a mass shooting, their state government has decided to not pass stricter gun control laws. The US Women's Soccer team has won another World Cup, but they still paid a significant amount less than Men in the same sport.  Fun and games have their time and place in our society.  They cannot be our whole society.  A balance is necessary, and the See Saw has way more weight on the challenge side than the societal awareness side.
Playing games and experiencing challenges is expected in life.  It should happen.  Games should entertain. Challenges should improve.  That is not exactly the case with these social media challenges that focus more on the "dare" than "truth".  Do not let these events on social media distract you from what is happening to those in our society that could eventually affect us.  Dares are no fun when society pays a negative price.
Staff Writer; J. W. Bella
May also follow this talented sister online over at; JWB Writes.