Hospital Advocates Don't Work for You.
(ThySistas.com) Hospital stays can cause anxiety, discomfort, and a laundry list concerns and questions. It is best to have someone that can be there with you that is able to communicate with doctors and nurses on your behalf if necessary. It is understandable that the patient is concerned with their situation more so than the schedule of the doctor. However, some patients, and loved ones, find themselves waiting for the doctor that seems to never show up. There are times when loved ones show up realizing their family member has not been attended to properly. Some of them don't have the right food for their condition, haven't been able to get to the bathroom, haven't eaten at all, have requested pain medication and have been waiting for an unacceptable amount of time, and there are even times when the staff is simply rude and unprofessional. In these situations, the family may seek to speak to a hospital social worker or advocate to see if something can be done to remedy the complaints they have, or even put a rush on the doctor they've been waiting to see.
Having spent more time in the hospital than I can keep up with I realized how important it is to understand that there are people that try to handle patient complaints, but they can only do so much. Furthermore, it can get really more complicated if the patient is in the hospital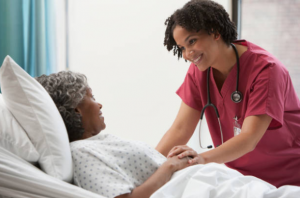 alone with no family or friends there to be a support system. Hospital advocates and social workers are great resources to try to address ones concerns regarding treatment that is not up to par. However, it is very important to remember that advocate does to work for you…they work for they hospital.
In many situations they are a part of the hospitals risk management team. They can only do so far on your behalf before there is a conflict of interest. This explains why some families feel as though the hospital advocate may be listening but are not working to get their issues resolved. In the case whereby the patient is alone it is very easy to feel that the staff nor the hospital advocate will go out of their way to help you because there is no one there to hold the hospital accountable for the manner of service rendered.
It is terrible that, on top of the trauma of fighting illness, patients must deal with situations in hospitals that let them know their care is not a top priority. Many patients feel neglected…and like they are simply a dollar sign. Some face discrimination based on gender, race, and class. This is one of the reasons why it is very important to have family with you, or very close friends, if you have to stay in the hospital you want someone there to help you address your questions regarding your health, and your care if necessary. It is important for the hospital staff and physicians to know you are not alone, and there are people that care about you.
If you feel that your needs are not being met by the hospital advocate you always have the option of hiring a private advocate to come in and address your concerns. This advocate actually does work for you without the conflict of interest. They can send a clear message to hospital staff that you don't plan on settling for mistreatment, and you need your questions regarding your health addressed. This is another area where by we must look out for ourselves as the hospital will not always work in our best interest.
Staff Writer; Chelle' St James
May also connect with this sister via Twitter; ChelleStJames.