Places To Visit In London For Older Couples.
(ThySistas.com) London consistently features in the polls of the top places to visit in the world. The reason why this is the case is because the city has so much to offer. It ticks all of the boxes. There are plenty of tourist attractions. The city is steeped in history, culture, architecture and natural beauty. There are a whole host of restaurants, bars and nightclubs. You can relax in one of the gorgeous parks. The options on offer are vast and this is one of the reasons why London appeals to all different types of people. This, and the fact that there are lots of cheap flights to London in the current day.
If you are an older couple looking to visit London then it is unlikely that the first thing on your to-do list is to hit one of the city's nightclubs. So, where are the places you are most likely to enjoy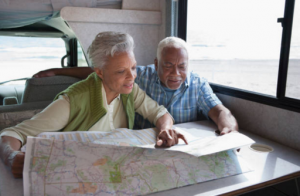 when spending a vacation in England's capital city? Well, one of the great things about London is the wealth of museums the area plays host to. The selection on offer is varied yet all of them are assured to provide you with an interesting and exciting day out. Here are some of the best museums in London which you should definitely consider incorporating into your trip:
British Museum – This is one of the oldest museums in the entire world. From the Rosetta Stone, to the mummies, to the

Sutton Hoo Ship Burial

; you will need a whole day here to witness all of the marvellous displays.

V & A – If you are an art lover then you simply cannot visit London without taking a trip to V & A. this museum houses a truly magnificent collection of decorative art. The British Galleries 1500 – 1900 are a particular highlight.

Natural History museum – This museum contains over 70 million specimens of mineral, plant, rock, animal and fossil. That's right; 70 million!!!
Most museums in London are free. However, you don't need to spend your whole time exploring museums in order to have a fun-filled vacation. There are lots of things to do whilst in the city. You can take a trip to Somerset House. This Georgian building is a vision; elegance at its finest. If you are looking for an unusual day out then the Barbican Centre can provide this. From hidden gardens to baffling walkways; there is nowhere else like it. St Bride's Church is another place you may want to add to your list. The church dates back to 1672 and its famous steeple is actually believe to have inspired the first tiered wedding cake. Or what about the British Library? Quirky yet brilliant!
The only thing left to do is find cheap flights. Luckily, that's not difficult either because there are lots of good comparison websites available. Plus, as heard on radio often, there are lots of companies whereby you can get a helping hand with the budget for your holiday.
So there you have it; if London appeals to you then there are plenty of fantastic things to do to make sure you get the most from your trip.
Staff Writer; Carla Ross