Your Love Needs are Important.
(ThySistas.com) Sometimes we are told to value what we have and be grateful we are love. Sometimes women settle in the area of their love needs because they have everything else they want in the man. So, he's driven, educated, compassionate, you are compatible spiritually, and you have like goals so its okay if he doesn't try to understand you sensually and, sexually right? Wrong sister. I am in no why saying through the man away and be shallow because he hasn't mastered your love needs, but they are important.
Intimacy comes in many forms and it is an area by which you need to feel you are fulfilled. This begins with understanding your needs. There is no way you can expect a brother to read your mind; granted it seems some of them can they should not have to do so. It is important to be in a relationship whereby the communication flows freely enough to discuss intimacy and sexual needs without anyone feeling offended.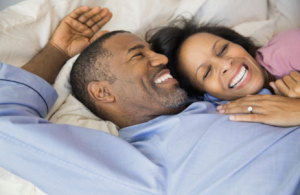 This can be a touchy topic, but we have to be honest every woman is very different in what she needs from a man. If you are the artsy sister that values 4-play that comes through art, words, and sensual intimacy verses just sex that is something you want to communicate. Some sisters value what can be considered power miss them with the sensual side and just go for it. No matter what your preference it can be difficult to move through a relationship when you feel this aspect o yourself is neglected. Its hard when what you need is coming into conflict with what he thinks makes you happy in this area. This is something that has to be addressed as it can be damaging for the relationship causing outside emotional relationships to occur. Cheating is not something that begins physically…that is simply the manifestation of something that has been going wrong for some time. It is very hard to neglect the interactions we need and desire from our partner.
Sometimes women make the mistake of going to their sister circle and discussing the intimacy issue. This is often done in an attempt to gain insight on how they can go about addressing the matter, and sometimes its for the sole purpose of venting. The problem is you are talking to the wrong person. In this space we are receiving counsel based on the experiences of another relationship, and as no two women are the same no two men are the same.
Take the time to access what you need from your man and talk to him about those needs. Show him the kind of intimacy you need in a way that would allow him to learn you and your needs. What started out as a misunderstanding could be something that brings you closer together as you dive into the beauty of learning about love and intimacy together. This can create a bond that is unique to your relationship merging you more into one.
Staff Writer; Christian Starr
May connect with this sister over at Facebook; https://www.facebook.com/christian.pierre.9809 and also Twitter; http://twitter.com/MrzZeta.