Kinky, Curly Sistas.
(ThySistas.com) Over the years having natural hair is becoming the evolution of women evolving everywhere.  Although we are a long way from natural hair being accepted in corporate America, it is inclusive in the hiring process discussions, which is a start.  More and more women are learning to embrace their natural hair textures which then turns into, women embracing themselves holistically.  No matter if you've done the big chop, transitioned to natural hair or celebrating annual anniversaries of rocking your natural mane, it is a symbol of self-love.
They are so many hairstyles and tutorials from naturalistas around the world on the YouTube platform or by following anything from hashtags to women on social media.  If you visit the mainstream stores like Target or Walmart or your local beauty supply stores, you are guaranteed to be welcomed in aisles of an abundance of natural hair care products.  Of course all hair types are different and therefore, you may spend some time going through the testing and trial eras before you find the right natural hair products, that works best for your hair type.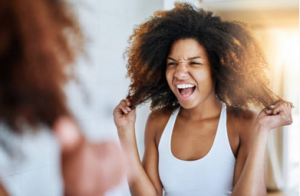 This summer, there have been national events such as Essence Fest and Curl Fest that bought women their favorite products on display, for purchase and even beauticians that gave live demonstrations on how to maintenance and style whatever type of natural hair you have, no matter the length, etc.  Myleik Teele, creator of CurlBOX just had her 4th annual CurlBOX Awards that was sponsored by Shea Moisture and Essence.  This lets you know that women, are constantly creating ways to embrace their natural selves and will travel hair to learn better ways to take care of their natural hair.
Natural hair is not the only focus at point.  Most women who have transitioned to natural hair have enjoyed the perks of no longer having heat damaged or hair that sheds or spending excessive amounts of money on perms, hairstyles, etc.  Kinky and curly hair requires a lot of water, oils and moisturizers to maintain and define the curls and keeps the hair healthy.  Rather consciously or unconsciously, women with natural hair, tend to take care of themselves better because they've learned the discipline it takes, from their hair.
Natural hair products are made from organic products and those products don't strip your hair of the nutrients needed to remain in your hair to help keep it healthy and the products used (sometimes products you already have at home) grows the length of your hair.  Scientifically, natural hair is overall, better for your health.
Whether a woman has kinky, curly or straightens her natural hair, there's a level of confidence that she has as she walks in her paths in life.  Actress Sanaa Lathan is in a new movie on Netflix called, Nappily Ever After.  In this movie, the audience watch her transcends from making terrible choices in life, experienced a failed relationship, to where she is forced to come to terms with herself and after she cuts her all off, she embraces her true self  and is Nappily Ever After.
Once you go through the phase of finding the right natural hair products for your hair type, the rest gets better with time.  Women are no longer waiting on others to value them, albeit a partner, a career or a hairstyle that says you're only accepted if your hair is chemically processed no matter what those chemicals does to your body and your soul.  Kinky, curly sistas are rocking their natural hair and embracing self-love in this society whether society accepts it or not!
Staff Writer; Felicia T. Simpson
One may also connect with this sister online over at; FTSimpson.com.