3 Ways To Inject Cash Into A Failing Business.
(ThySistas.com) Managing your cash flow is the most important thing in the early stages of a new business. You'll only have a limited amount of money to play with and it needs to last until you start bringing in enough revenue to cover all of your overheads. That usually takes a lot longer than people realize and they burn through their cash too quickly. You can also end up in trouble if you underestimate your running costs and end up spending a lot more than you planned to. Keeping track of spending and being frugal is the best way to avoid cash flow problems in the first place but if it's already too late for that and you're running out of money, these are the best places to find more.
Clear High Interest Debts
Clearing debts is probably the last thing on your mind when you're already short on cash but it could help. If you're paying a lot of interest on debts, you're just wasting your money. If you can clear some of those debts now, you'll reduce the amount of interest that you're paying and save yourself money every month. Have a look at all of your debt payments and identify the most expensive ones,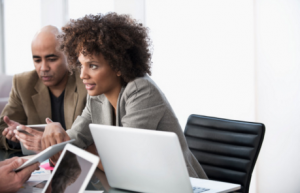 then put a bit of the money that you do have into paying them off.
Borrow Some Money
This sounds counterproductive, especially after I've just advised clearing debts to save money. But if you borrow from the right sources, you can find cheaper loans. You can even borrow to clear old debts and cut the amount of interest you're paying. If you can find a credit card with a zero interest introductory period, you can do a balance transfer to pay off old, high interest debts. That way, the amount you owe is the same but you don't need to pay interest on top. Check out this list of the best credit cards to see what deals are out there for you. You can also use credit cards as a way to inject a bit more cash into the business and cover your overheads. However, there are better ways.
A small business loan is probably going to have a better interest rate than a credit card so if you're looking for cash to cover costs, that's your best option. If you've already borrowed money for the business, some lenders might not be willing to give you more but if you shop around, you should be able to find a loan.
Cut Your Overheads
It might be that you don't have enough cash to cover your overheads, but it also could just be that your overheads are a lot higher than they need to be. New business owners often jump the gun and rent a big office space and fill it with employees once they start bringing in some money. A few months down the line, they realize that it's not sustainable and the cash starts to run out. In that situation, you're going to have to make some hard decisions and cut back on staff and office space.
Cash flow problems can easily sink your business entirely but don't give up just yet. Use these tips to help inject more cash into the business and kickstart it again.
Staff Writer; Paula Moore