Kentucky Fashion and Their Cars.
(ThySistas.com) There's nothing more fashionably intriguing than Kentucky over the summer. This time of year brings people from out of state, the production of lively festivities, and mountain folk feeling the warmth of the sun after a harsh winter. From so many different backgrounds, everyone has their way of self-expression – shown through their unique style of clothing.
If you're traveling through the state, perhaps celebrating bike to work day, you'll see your fair share of eye-catching fashion sense and the cars they compliment. To give you a sneak peak of what to expect when you travel to the Bluegrass State, we've compiled a list of Kentucky fashions and their cars. After visiting Kentucky, you'll understand why there's so many whiskey distilleries.
Flannel, large belt, and jeans driving a pickup truck before the year 1990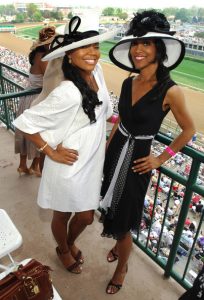 Also known as the standard rural Kentucky fashion, anyone wearing flannel and overalls will be driving a truck that was made before 1990. They pride themselves on driving cars at least 30-years old, because they love showing off how mechanically savvy they are with their hands. You might also see this type driving a Plymouth Road Runner. They are the human personification of a car engine. So, if you ever see them, be sure to gift them a can chew.
Kentucky derby dress driving a convertible
Every May is kicked off with a loving state pastime. People gather in coliseums to enjoy the galloping virtue of horse racing. The Kentucky Derby is a nationally recognized sporting event that brings out the stylized fashion of its audience. You'll recognize the southern style glamour and gaudy hats. You can also catch glimpses of Derby goers piled into a convertible. The only way you can fit those hats in a car is if it doesn't have a roof.
Hoosiers visiting "from out of state" in a Honda CRV
Indiana is Kentucky's neighbor, and nemesis, to the north. Home of the Hoosiers, Indiana sends its share of young adults, dads, and retirees across the river to Kentucky every summer. They're all seeking that one delicious nectar: distilled whiskey. The more interesting pattern is they all dress in flannel, khakis, and drive a Honda CRV.
Louisville normcore streetwear driving Porsche SUV
The metropolis of Kentucky is Louisville. Vibrant downtown culture, bars, and arts district influence the fashion sense of this area. People will be seen wearing clothes that resemble "normcore," a fashion sense that resembles dull colors, greys, and whites with simple layers. They may not look loaded with cash from a distance, but, when they drive by in a Porsche SUV, you'll know they're the Louisville normcore type.
Man wearing a barrel riding a tractor
The man wearing a barrel for clothing is more of a superstition around those Kentucky parts. Seen to be riding his tractor in the rural regions of the state, he's rumored to plow fields endlessly, while laying down seeds of corn, soybeans, and tobacco. Not only is he responsible for 50% of the crop grown in the state, but he's also a great driver thanks to taking his defensive driving course online.
Newport athletic clothes driving a hatchback
Kentucky has its fair share of mid-sized cities that bring out the culture of young, middle class, white collar workers. They tend to err on the side of utility and lead healthy lifestyles. That's why you'll catch a very trendy style of athletic clothed people driving hatchbacks. What's more utilitarian than having the option to go on a run whenever you want?
Staff Writer; Carla Day