5 Tips For Running a 'Mom-preneur' Business From Home.
(ThySistas.com) After starting a family, if one thing is for certain, it's that everything changes. Suddenly, your priorities shift in quite a dramatic way, and for career-focused women that can mean quite an adjustment. Many will struggle to balance the needs of their family with the needs of their job, as the constraints of a normal 9 to 5 run up against the boundaries of family life. That's why increasing amounts of women are turning to starting their own businesses. The new wave of 'mom-tepreneurs' dream of good results for their family and for their business. They want the enhanced flexibility of working from home and setting their own hours to enable them to combine it with family commitments.
Becoming a parent inspires many to consider gaps in the market that they can address with a start-up company. Of course, leaving the security of a regular paycheck for the highs and lows of life as a small business owner can be daunting. So what does it take to become a mom boss? What should you expect if you do take the plunge? Here are top five tried and tested tips:
1. Know Your Market
The number one reason why any small business fails is due to a lack of market research. While those 3am feeding ideas can be pretty genius, you need to make sure that people out there are willing to pay for it too. Start with your own circle of family and mommy friends. Host an informal discussion of your business proposition and invite honest feedback as to it's strengths and weaknesses. Use social media channels to reach out to a wider group and test the waters- what do they use and need? Does your idea answer a problem for them? Join in the conversation online and find some relevant hashtags to do that market research.
2. Don't Overload Yourself
As a 'mom-tepreneur', you are your own primary resource. And you've got a lot on your plate! From finding a full service ecommerce solution to sourcing suppliers, starting a business from scratch can be intense – and then there's the small matter of having a demanding baby to care for as well! So be wary of the blurred work-life balance and making enough time to rest and recover as well as develop your business and be a parent. The truth? You can have it all. Just not all at the same time. You will need the support of friends and family, so don't be afraid to ask for help.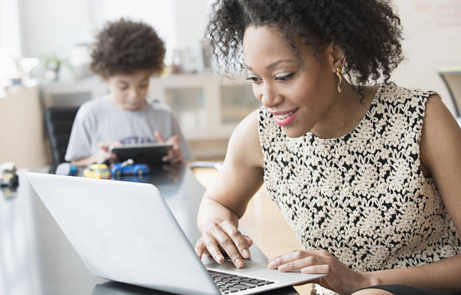 3. Be Prepared For Mom Guilt
Running a business doesn't mean a magical escape from this one- although you have enhanced flexibility to focus on family life, your business is also going to demand a huge amount of energy in order to make it a success. It may take several years before you turn a profit and can perhaps afford to employ staff to share some of the responsibilities. In the meantime, there will be a lot of hard work. So learn to expect the 24/7 nature of it – switching off may become a thing of the past.
4. Find Your Passion
If you love an idea and believe in it, so will others. You need to be pretty motivated to work for yourself, and this can get you through a lot. You may not think you have the required business expertise, but as long as you know the opportunity is right, and you believe in what you're doing, you can learn the rest as you go.
5. Don't Forget Health Insurance
It's not just the wage, but the employee benefits that you'll be foregoing initially. So make sure that you and your baby have adequate health insurance in place. Try switching to your partner's plan if you can. Make sure arrangements are in place to cover the health of you and your child while you get your business off the ground.
Staff Writer; Natasha Moore