Plan A Summer Road Trip On A Budget.
(ThySistas.com) Being with family is so important, and one of the most exciting and important things that you can do together is go on vacation. One of the best and most adventurous vacation ideas out there is a road trip. Piling in the car together and choosing your route as a family to hit destinations that you've always wanted to hit is pure fun for you and the children. The downside can be the cost.
A road trip that takes you across several states is going to cost you more money than a trip to the local beach resort. You have to factor in the costs of food, accommodation along the way and what the strain of the trip can have on your car. You have to think about getting extra insurances like the ones that you can find at carchex.com/content/dodge-ram-extended-warranty so that you can be covered in the event of needing urgent repairs to your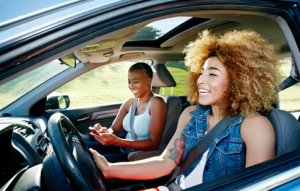 vehicle. With a little planning before your road trip, you can be on the road and saving cash ready for a vacation of memories that none of you will forget.
Shop Around. When it comes to accommodation, there are a lot of options. There is AirBnb to look at, HomeAway and even campsites that you can book. It's important to book your accommodation in advance so that you will have somewhere to drop into at each location. If you're travelling with kids, you're going to need to plan this carefully so that you can meet their needs.
Stop Gap. When you need to make stops along your journey due to toilet breaks, try and plan these ahead. You want to spend as little time driving as possible so that you can spend more time exploring and seeing the sites that you've mapped out for yourself. Plan your stops carefully to conserve gas, and plan gas station refuelling with GasBuddy.com
Pack Snacks. Service stations can be pretty expensive for snacks, but Pinterest has got a ton of ideas for snack packs that are age appropriate for the whole family. This way, you can ensure that everyone is as fuelled and hydrated as the car needs to be. You'll also save a lot of money as you go as you won't be paying out for food on the way.
Vehicle Maintenance. Before you've even set off for your trip, you should take your car to the shop so that you can get the car checked over properly. Tyres that are properly inflated and an engine full of new oil can make for a far smoother journey with less of a chance of running into an accident along the way. Getting the car serviced can be so much better than waiting until you break down on the side of the road.
Your road trip has the potential to be the vacation of a lifetime, and you can make it friendly on the budget by choosing to make savings before you get on the road. Have fun and make some memories.
Staff Writer; Shelia James