How To Choose The Right Flea Treatment For Your Cat.
(ThySistas.com) Getting the right treatment for your cat's fleas (and the fleas present in his or her living environment, too) can be a real challenge. On the one hand, the market is overflowing with alternatives, and you should try to make the most of the information you will come across so as to choose wisely.
On top of that, some products are not recommended for young cats or kittens, and the marketing strategy of some manufacturers might even involve buying fake reviews from people who've never used the flea product before.
To save you some time and to ensure that you are able to keep the health of your cat in top shape, we've put together a list of tips and tricks you need to know about.
Always think of the cat's age and weight
If you have an adult feline companion, this factor might not be an issue, especially if he or she is not underweight. Most reputable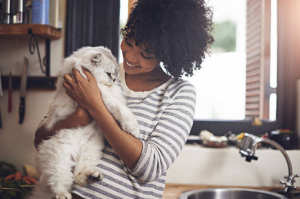 brands specify the data you should check on in this sense. For example, Cheristin for cats is recommended for kittens and adults with an age of at least eight weeks and a weight of at least 1.8 pounds.
The only circumstance where this consideration might not be as important would be for you to get a flea shampoo, wash your cat as best as possible, and then try to remove virtually all suds and other remains of the flea killer from the surface of his or her body. You have to rinse the cat's body extremely thoroughly.
Do the cat's tastes and behavior matter?
In a short answer, yes. Some cats might be extremely skittish when it comes to being washed. You've probably seen a lot of videos of cats who love to spend their spare time in the kitchen sink or who have nothing against taking a bath now and then. Unfortunately, not all felines are this way. In fact, most of them hate water.
Therefore, using flea shampoo is virtually impossible if you will have a lot of trouble handling the cat. Don't stress the pet out — opt for a better and easier alternative. Many owners will find that spot-on solutions are extremely easy to apply and that their effect usually lasts for about a month, which is more than decent, especially during the summer.
Don't forget about his or her living environment
Let's assume that you've picked the perfect flea product and that everything's well with your cat right now. But what happens next? With an indoor cat that has fleas, it's more or less obvious that you should also disinfect his or her living environment, which in this case, might mean your whole apartment or home.
Of course, whenever you use flea sprays, powders, or solutions designed for surfaces and living spaces, you need to make sure that the cat is kept in a different room or even another house entirely. If possible, try to opt for such solutions that cannot affect the health and well-being of the pet.
As for the defleaing process, we suggest you keep a strict schedule. If you've gotten rid of the pet's fleas and the manufacturer of the spot-on solution you've used strictly specifies you need to repeat the application after a month, save the date.
Staff Writer; Rosalind Lee