How to Make Money from the Comfort of Your Own Home.
(ThySistas.com) If you are looking to make a bit of extra cash, or you are a new mum and you want to earn while looking after your little one, you will be pleased to learn that there are numerous ways to earn money from the comfort of your own home these days. The trouble can often be knowing where to start or determining the money-making solutions that are actually feasible. With that in mind, read on for some top suggestions.
Become a freelancer – There are many freelance websites available today where companies and individuals advertise tasks that they need completed. If you have skills in writing, admin, and design especially, you should have no trouble finding some work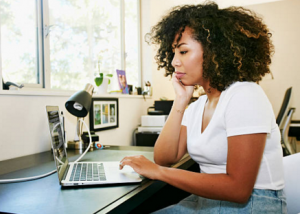 online. Once the ball starts rolling and you build up a good reputation, more and more jobs will keep coming.
Become an affiliate marketer – One of the best ways to make money online these days is to advertise for another company. You will find plenty of information about this here: http://theprauthority.com/affiliate-marketing-programs-for-beginners/. Essentially, for every lead you bring another company, you will get paid. There are so many different programs available for this, and so you could be an affiliate marketer for a number of different companies. And, of course, the best bit is that there is no limit to the amount of money you can make.
Take online surveys – There are numerous websites that pay people for taking surveys for them. This is because businesses today rely on feedback in order to better themselves and stay ahead of the competition. They know that people won't take surveys off their own back, which is why it is a necessity to provide an incentive. Make sure you do your research before signing up with a survey website. Some of them are known for having numerous issues, such as slow payouts and lots of technical problems.
Start your own home-based business – Why not start your own business from home? You can find some great information on doing so here: https://thysistas.com/2017/09/04/5-essentials-everyone-forgets-when-they-start-a-home-based-business/. There are many different businesses that do not require office space. For example, you could make crafts and sell them. Find something you are passionate about and discover whether there are any feasible ways to get up and running from your own house.
Rent your drive – Another way to make money from the comfort of your own home is by renting out your driveway. This can be especially lucrative if you live in an area that is popular with students or close to a number of businesses. There are many websites that enable you to advertise your driveway. You could fetch up to a couple of hundred per month if you live in certain areas, although around £50 per month is more likely. If your driveway is currently sitting unused, this is a no-brainer. That could be an extra £600 per year or more. However, you can only do this if the parking space is part of your development, and not on the main road.
Staff Writer; Carla James