Plus Size Fall Fashion.
(ThySistas.com) One of the things that I love about fall is the fashion. I love to look good all year round and am a firm believer that size should never be a deterrent to making that happen. Some people live for summer and all the trends that hit the stores. I am one of the many that look to the fall and winter offerings because, in my view, you can just do so much more with your wardrobe.
Plus size women don't always have the clothing options that straight sizes do and that's a shame. The clothes for larger women have come a long way nonetheless and you can find just a lot of great stuff. With that being said, there are some trends that you can add to your closet this fall and winter that will keep you warm, colorful and fashion forward.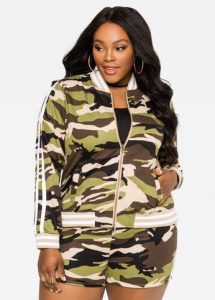 Soft Joggers
I have fallen in love with this trend. It is everywhere! If you go into your favorite department store, you will see them. Shopping online, they are there. They are ideal for those who believe that comfort is just as important as style. The really great thing about soft joggers too is that you can dress these them up or down, plus since many of them come in nice patterns, you have a lot of ways to wear them.
Camo Print
Camouflage print, to me, never really goes out of style. It's just something about it that is so edgy and fresh. This year, I have seen these all over the place and most excitedly, they are in soft jogger form. So take the trendy soft joggers and add them in camo print and you cannot go wrong this fall and winter. I love them so much that I actually bought the same pair TWICE each from a different store. They are super affordable for the most part too, less than $10, and are just an all around good buy.
Off the Shoulder Blouse
I am a fan of the off the shoulder blouse because it's sexy. You can wear them with a blazer or duster to make them more work appropriate or by themselves for date/ girls night. There are some that I am not too fond of, like the ones that have partial off the shoulder details, but all in all, they go great with jeans, skirts, joggers and can be styled in a number of ways to make them work for you.
Red, Red and MORE Red
If you like bold colors, then the boldest red hues are in this fall. I am all about embracing color and wearing it on your sleeves so to speak. From monochromatic looks to dope street style looks, hot, fire, piercing red is in.
For the plus size woman, you can look for these trends in places that cater to curvy girls. These outlets include Forever21, Fashion to Figure, Ross, Burlington Coat Factor, ASOS, Boohoo and so many more. Most of these allow you to shop online making it all the more convenient to be in the know.
Go ahead and try some of these. Make your 2017 fall fashion sense one to remember.
Staff Writer; Rasheda Abdullah