Everyday Activities that will Improve Your Mental Health.
(ThySistas.com) A healthy mind is just as important as a healthy body. We must prioritize our own mental health in order to experience greater success, more friendships, stronger relationships, and promote vitality, says Dorian Crawford, PsyD. We must understand what is going on inside of us. If we do not take care of ourselves, that which is happening within will quickly begin to show on the outside
We all enjoy different activities but there are habits which have proven to be beneficial for your overall wellbeing. To increase feelings of happiness, strength, and balance, try adding these activities to improve your mental health.
·          Reach out to people you love. When we reach out to the people we love, if reaffirms that life is about connections. We are able to get feedback, a listening ear or solution to a problem we are having from people who we love and trust. This also lessens outer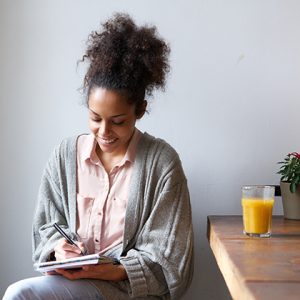 distractions that may cause worry or stress. It is said people who engage in social relationships live longer.
·         Write your feelings down. When you keep a track of your feelings, you are able to notice patterns that may come up during a particular time or mind state. Being aware of these patterns can help the brain overcome negative emotions. Any feeling that you are afraid of saying out loud or think will bring bad reactions from others should be written down.
·         Express Gratitude. According to Harvard Health, "Expressing gratitude can help you feel more positive emotions, relish good experiences, improve your health, better deal with adversity, and build strong relationships". Get into the habit of expressing what you are grateful on a regular basis. Start a gratitude journal in which you can write down experiences and lessons you are grateful for just before bed.
·         Exercise. Exercise not only improves the body but also helps us to get outside our head. Exercise makes us feel more clear and focused as we work off mental energy through the body. Research shows that consistently working out can help alleviate mild to moderate depression and anxiety, according to Harvard Health.
·         Sleep. While most people think skipping out on sleep each night is no big deal, it could actually increase your risk of psychiatric disorders such as anxiety, depression, and bipolar disorder. Getting adequate sleep will leave you feeling well rested and help your mind function at its most optimum level.
·         Get outside. The Environmental Science & Technology journal study found that even just five minutes of exercise in a park, on a nature trail, or other green space can improve people's mood and sense of personal wellbeing. Spending time in green spaces is healthy and necessary for your mental health.
It is imperative that we pay attention to our mental health just as much we do our physical health. Just as we put time into building our bodies, we must devote time to strengthening and improving our mental health as well. You might be surprised at how much these activities can easily become habits.
Staff Writer; Dina Tuff
333rd Eye Healing Temple
Reconnecting Consciousness to Magick
Official Website; http://www.333rdeyehealing.com
Facebook: http://www.facebook.com/333rdeyehealing
Instagram: http://www.instagram.com/333rdeyehealing