He's Not Leaving Her.
(ThySistas.com) Cheating on one's spouse is never acceptable. There is no justification for the disloyalty. Granted two wrongs don't make a right, and in marriage spouses can provoke another to isolation. When one feels alone in a marriage they are vulnerable, but one must remember that great marriages are not built overnight, and they will be tested by life's hardships. However, each party in a marriage must decide for themselves that they are resolved to by faithful and loyal to their spouse.
Ladies it's not a walk in the park being a wife, and the good ones have been battle tested. Many wives have created a life for themselves whereby their family is the center, and their crown achievement. Please don't think most wives will easily give up what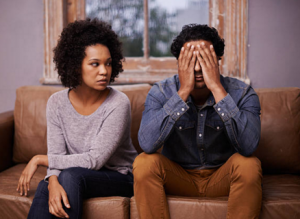 they have worked many year, and children, to build with their husbands.
Infidelity creates divides, trust issues, insecurity and in some cases, it's a blow to self-esteem that can cause depression. However, it would be folly for you to believe that just because a man is willing to cheat with you means he will leave his wife. His willingness to cheat you gave given you pause, it should have made you feel that you could never trust the loyalty of said man. Regardless of what he tells you about his wife, for some men, there are a few things he left out.
He may neglect to tell you how well she knows him. She has created a home that caters to his comfort even if he does tell you she's boring. He failed to mention she is the Queen that commands the sanctity of his little kingdom, and because of her he's able to accomplish much. The fuss she makes over him see to it that all his needs are met. If his wife is devoted to him he has forgotten the little things she does for him every day…so instead of work on his marriage he's laying up with you. In many cases that man is not leaving her, because at some point he will realize he actually needs her. If he does leave unbeknown to you he will find himself measuring you by her standard, and because you were the side chick you will never meet that expectation.
There is nothing good that can come of messing with another woman's husband. Know that what you do to her…you stand to have done to you. Because after a real breakthrough of truth, and forgiveness some couples find their way back to each other there is always a chance that you will be left out in the cold…he was never yours from day one. Staying away from married men isn't just right or safe…its speaks volumes to your character as a woman.
There is dignity in being able to say I don't meddle in what doesn't belong to me. You would never want to see your mother, sister, cousin, best friend hurt and broken inside from dealing with infidelity. You would hurt with and for her…remember the woman whose husband you toy with is a sister, mother and friend to someone. He's not leaving, and if he does it very well may not be for you so save yourself the heartache and humiliation.
Staff Writer; Christian Starr
May connect with this sister over at Facebook; https://www.facebook.com/christian.pierre.9809 and also Twitter; http://twitter.com/MrzZeta.