Solo Travel: Five Places to Visit this Summer.
(ThySistas.com) Summer is quickly approaching and one of the best things about this time of year is vacationing. Most people save up all year long to make sure they can take the vacay of their dreams in some wonderful, exotic place. While a lot of folks plan to travel with their families or close friends, there is a trend that continues to become extremely popular- solo travel.
Gone are the days where you have to visit another city or country with someone else. Today, more and more people, in particular women of color, are going out on their own to experience the world. I highly encourage it because there's nothing like finding new places,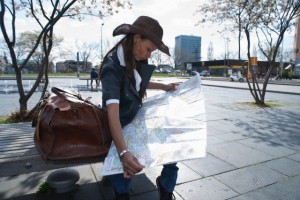 foods, and faces on your own terms. You know, without the worry of other people not wanting to do the things that you want to do.
If you know that you are taking a vacation this summer and have not found anyone to go with you, maybe you should consider traveling solo. Here are some destinations to check out that are "friendly" to the lone traveler.
Spain
In particular, Barcelona is a beautiful, amazing place to travel alone. It is extremely walkable, which makes it a lot easier to navigate. It has great shopping, very nice beaches, and top-notch dining options. You can't go wrong making Spain your solo travel destination.
Seattle
This is one of my absolute favorite cities. The coffee shop culture is perfect for solo diners and drinkers. There are plenty of places to visit like the EMP Museum. Downtown is so full of super fun things to do. Also, their transportation system makes it easy to get around to the many tourist attractions.
Washington D.C.
If you are an American citizen, you have to visit the country's capital at least once in your lifetime. I love D.C. because it has the best transportation system compared to many other major cities. It is easy to travel and there are countless things to do. From the monuments, to the food to the nightlife, it's a dynamic place.
Australia
A beautiful city on this small continent is Melbourne. Not only did the Economist Intelligent Unit consider it the most livable city, it has a free tourist tram that allows you to visit major sights. From the Carlton Gardens to the Melbourne Star Observation Wheel, it is a magical place.
Austin
This Texas city is booming right now. Considered by many to be the Portland of the southwest, Austin is a hipster's oasis. It offers so many different opportunities to meet new people and to experience some Texan southern hospitality. One of the great things about traveling alone to this spot, too, is that it is pretty affordable to fly into the city from just about any place in the country.
When it comes down to it, you don't have to wait for someone else to get ready so that you can experience all that this world has to offer. Traveling alone not only gives you a sense of freedom, it also allows you to get to know yourself just a little bit more.
Staff Writer; Rasheda Abdullah