Top 5 Reasons Why You Should Get Yourself A Motorhome.
(ThySistas.com) Having a motorhome, gives you the opportunity to travel and enjoy the great outdoors with far more creature comforts than other forms of camping.
Freedom Of Travelling
A motorhome's on-board closets and storage space eliminate the need to pack, unpack and carry bulky suitcases. You can keep the motorhome stocked with food, clothing and essentials so you can just hop in and go. Take off on last-minute mini vacations and weekend trips, creating your own adventures along the way and stopping to take a break when you choose. The destinations are endless, and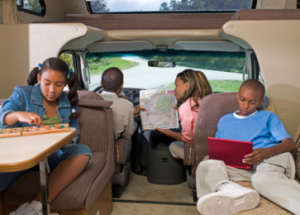 just think, all the while, you're avoiding tight schedules, luggage restrictions and long lines at the airport!
Home On Wheels
Motorhomes are equipped with comfortable living, dining, sleeping and bathroom facilities. Propane tanks fire up the stove and refrigerator. Electrical systems run off the motorhome's batteries or gas- or diesel-powered generator. And the water tank holds fresh water.
It has everything you would want in an ordinary home!
Motorhome Campsites And Resorts
Private campgrounds and government-owned campgrounds are often located near popular tourist attractions. Some RV parks are small and simple, while others are large, upscale resorts like the Stella Mare RV Resort.
Campgrounds may have entertainment, swimming pools, playgrounds, camp stores, recreation centres, walking paths, crafts and social events. Many now include cable modem and Wi-Fi Internet access. Commercial campgrounds usually have hookups for power, water supply and waste disposal. After a day of sightseeing, families can return to their motorhomes, cook their favourite meals at leisure and relax in a comfortable and familiar atmosphere.
Camping fees vary depending on the location, season and amenities offered. Public campgrounds and some retail lots offer convenient and low-cost places to stay overnight, so get looking online for some ideas.
You Can Bring Your Pet Along, Stress-Free
You get to stay close with your companion the whole journey and enjoy the ride together. You don't have to board your pet in a kennel or leave it with a family member, going through that horrible anxiety of leaving him behind. Most pets adjust to motorhome travel just fine!
Quality Family Time
Whether it's a long excursion or a weekend getaway, motorhome trips can strengthen family bonds weakened by busy daily lives. Family members tend to connect with each other when they are away from their normal routines and are enjoying a simpler lifestyle. Motorhome trips can bring out communication and churn out good times to share and then treasure. Plus, it's a lot much more relaxing when you don't have to continually look for rest areas and restaurants.
Motorhome travel can help children learn to appreciate the outdoors and gain insights into different people and places too. Travelling to battlefields, presidential libraries and historic villages makes history come alive. The opportunities to learn about geography and nature are endless. Seeing the world through kids' eyes opens up a new set of wonders for adults.
In addition, a motorhome is a great, nonintrusive guesthouse while visiting friends and family.
Staff Writer; Glenda Waters