Shapewear Trends.
(ThySistas.com) The world in which we live puts a lot of stress on women to look a certain way. We must have ample boobage, a round butt and for he love of God, a flat stomach. A lot of ladies are blessed to have a figure that naturally fits the mold, but for those that don't, the pressure is on to look like those who do. That's where shapewear comes into the picture.
There is absolutely nothing wrong with wanting to look svelte. For some, that means working out all the time to achieve or maintain their waistlines. For others, it means using accessories that help them achieve their body goals. Shapewear comes in a variety of forms and is a great way to help you put your best body forward. It is relatively affordable, depending on which route you choose, and it is more accepted today than probably ever before.
If you are in the market for some shapewear, here are a few ideas on what to look for as you search for the perfect one.
Waist Trainers
These babies are all the rage right now. Thanks to people like Kim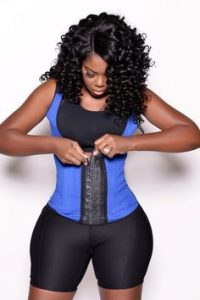 Kardashian, her sisters and other reality TV stars endorsing them, everyone wants a waist trainer. They work in a couple of ways. Many women use them to literally train their waists by wearing them around the clock. There is usually a diet and water "requirement" to ensure maximum results. But if you are just looking for something to "snatch" your waist without the training part, it's still an effective option for a flatter looking tummy when you need a little help to kill it in your new favorite dress.
Body Shapers
Body shapers work a little differently from waist trainers. A lot of women go this route because it gives support to more than just one part of your body. Most body shapers are worn like high waisted underwear made from extra firm, flattering material. These can be tricky because it's a little harder to find one that not only works but also is comfortable. It is trial and error but, in my opinion, they give the best short-term results. Spanx is one of the popular brands with great products.
Corsets
Think 1800's beauty standards with this one. The truth about corsets is that they are really effective at getting that hourglass shape look that you want. Made of sturdy material, they come in different patterns and styles and yes, you lace it in the back. So that means you can make it as tight or loose as you want. That makes it an item with a long shelf life because as you lose weight (if that is something you are trying to do) it can accommodate your changing body thanks to the ability to make adjustments.
These are just three of the basis shapewear options available. Everyone wears some kind of body smoother under their garments these days. From movie stars to businesswomen, shapewear has become such an integral part of the getting dressed process. It is in your best interest to have one for those days when you feel that you need it.
Staff Writer; Rasheda Abdullah