2016 Fall Hair Color Trends.
(ThySistas.com) Fall is here and as we say goodbye to summer, many women also say goodbye to their hair color. But just because the most coveted three months of the year are gone, doesn't mean the fun stops when it comes to your hair. As with fashion, there are colors that fit perfectly for fall.
Get excited because what's trending for Autumn 2016 is an array of hues, tones and blends that will take your tresses to the next level. As the seasons change, so does what's hot in hair color. Here are some ideas to for you to try now!
Nude
This is a sexy hair color. Encompassing warm and cool tones to balance out your desired look, it is a neutral shade that is extremely easy to wear. This hair color works for a variety of complexions too.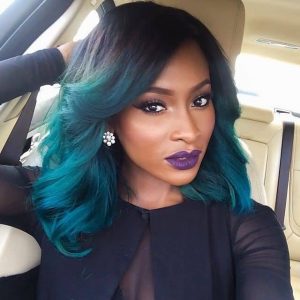 Denim Blue
If you are into nontraditional hair colors, denim blue is a fun take on the blue hair that we've seen in the past few years. It's a freer way of expressing yourself through your hair and it's a popular choice. Denim looks great in a variety of styles so you can play with it to make it your own.
Ronze
What a great blend of traditional colors. Ronze is an updated take on bronde for blondes and is an ideal alternative for red hair. A combination of copper, bronze brown and red, it's a great go to for many women. There are enough variations to find the one that will fit your personality just right.
Rose Gold
This is another great color that works well with many skin tones. Rose gold has dominated social media lately and continues to grow in popularity. A delicate shade of pink-tented blonde, when done correctly, it radiates with shimmering beauty. It is definitely a good one to consider.
Cinnamon Swirl
This is my favorite trending fall color. It is warm and inviting and looks good on short, long, straight and curly hair. It is a combination of warm honey tones and brown shades. It is the quintessential fall hair color.
Deep Eggplant
If you like to "go there" then this beautiful deep purple is a great color for fall. Experts suggest that it makes the eye really pop, so deep eggplant is a winner. Plus, for the naturals, it looks amazing on curly hair.
Rich Brown
For the ones that like to keep it more conservative, but still want to make a statement, go with a rich, deep brown. It is perfect for fall and looks amazing on everyone. That's the great thing about dark brown; it looks good on all skin tones, hair types and lengths. Maybe you have a corporate position that doesn't allow for a lot of room when it comes to hair color. If so, you cannot go wrong with this one.
See, summer doesn't get to have all the fun. Autumn is my absolute favorite time of the year and with all these options and colors to play with, the variety in hair and fashion are just two of the reasons why.
Staff Writer; Rasheda Abdullah