Prayer WITHOUT Action is POINTLESS.
(ThySistas.com) I know this may not be a popular position, but it's far time we acknowledge a bit of truth regarding prayer. Ladies, this is an area where by we can be a blessing to the community. Many of us have been taught that knowing the truth can lead to freedom. With that being said either we don't know…or we are not being completely honest regarding prayer. Don't get me wrong…prayer is necessary, and powerful. With that being said we don't get the same results when we are dormant in actions, and overrun with fear.
Many of us have heard the scripture "Faith without works is dead." However we must be honest…it gets an amen in church, and we can definitely quote it to others; practicing thus principle in our own life is indeed another matter. We cannot dismiss this problem as: advice is easier to give than to live. There are requirements necessary to see a movement in our life as a result of prayer. One of the most important things to know about prayer is it is not very useful on its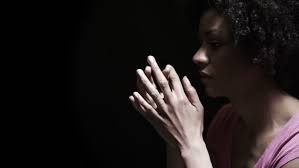 own. Prayer requires corresponding action. If you find yourself praying about health, but aren't willing to make the necessary adjustments you won't see results. It's very easy to say maybe God didn't hear me, God will answer me in his time, or God may be punishing me. The issue may very well lie in the lack of "works".
There is a lot going on in our society and country. We can no longer tell people the problem is we need to return to prayer without also moving them to action. Yes, praying about the issues plaguing our children is important; it is equally import to train our children and mentor kids. If we are not willing to work our prayers are lacking. So many of us discredit our beliefs by not following them. Some that question Christianity focus in on amount of time in prayer, and yet nothing seems to change. Church elders are screaming pray, pray pray, but they are not forcing the issue on "works'' at the same rate. Yes, it is a fact…prayer was taken OUT of the schools hence the moment of silence. But, schools have religious organizations where prayer, and how one lives should be in balance. We can't expect the young people to do this if those leading do not.
Truth be told faith, by Christian standards, is necessary to receive from God. So faith is necessary for effective prayer. Too many of us do not believe in what we claim. It's cool to talk about it, but when adversity comes…what faith. Too many of us act and speak from a position of fear. This means that many of us go to our knees in prayer full of fear which cancels faith. If Christianity is what we believe then we have to study the Word, and additional texts, for ourselves. Some of us look at our grandparents and elders wonder why their prayers seem to get response. So many of them lived like what they petitioned of God is so. Many of them knew Mark 11:23 and it is how they live. They just seemed so fortified, and unmoved…they believed what they were claiming.
Prayer is a powerful tool. However, it requires action… "works" to have the necessary effect. Every situation is different, but principle is an equalizer. We must do more than pray. We must live a life of character and integrity. We must act upon what we claim to believe. We must study for ourselves to understand this thing we know as prayer. Pray, then get and work toward the thing you are praying for. If we just stay on our knees and do nothing…nothing will happen. This isn't because God can't hear us…it's because "Faith without works is dead" literally.
Staff Writer; Christian Starr
May connect with this sister over at Facebook; https://www.facebook.com/christian.pierre.9809 and also Twitter; http://twitter.com/MrzZeta.