Gabby Douglas The Olympics, Twitter Uproar over Hair.
(ThySistas.com) There is so much going on in the world right now, I wonder how we even have time to be negative. After seeing social media posts, hearing commentary and reading different articles about Gabby Douglas and her time at Olympics, I've come to the conclusion that the black community can, indeed, be its own worst enemy. We have got to do better. There really is no way around it at this point.
Here's the thing, we have to put things into perspective. In the grand scheme of it all, Gabby Douglas made history at the Olympics this year and her name is going down in history books because of it. Her accomplishments should be what we talk about not her hair, h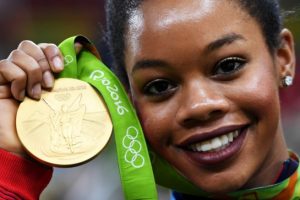 er attitude or whether or not she placed her hand over heart during the pledge of all allegiance. Too many people got on Twitter and Facebook to bashed the Olympian and an alarmingly large amount of those people were black folks.
The thing that really concerns me too is that Gabby admitted that the criticism she received got to her. She did not perform well in her last event in part because the people, who should have been cheering her on and praising her, were too busy commenting on her edges than on her talent.
How can we not understand the power of words after everything we have been through? We can breathe life or death into a person's situation and yet we still choose to be negligent with what comes out of our mouths. Can you imagine what the outcome would have been for Gabby if she weren't bothered by the naysayers? More than that, can you imagine how life would be in general if we channeled all the energy we use to be negative into being supportive? We could change our world.
This is an issue in our community and one that I wish we would care more about in how it affects us. I know that everyone is trying to get their own and live and prosper, but at the expense of others? It's a cutthroat society in which we live and as such, common courtesy sometimes goes out the window. That's shouldn't be. We have to get to a place where love and compassion are our first instincts especially when dealing with each other.
The sad truth in all of this is black women in America, not matter what we do, still aren't enough. Gabby Douglas has been a role model and a powerful example of black beauty. She is apart of one of the most dynamic gymnastics team to ever compete at the Olympics. I mean, the girl is a gold medalist. Yet people still feel the need to speak ill of her.
When will being a successful black woman in America count for something? As I see it now, for too many outlier women, our accomplishments mean nothing. For no other race of women is that the case.
We have so many things pushing against us as black women. Let's not add each other to the list of things that brings and holds us down.
Staff Writer; Rasheda Abdullah