Art Can Be Therapeutic.
(ThySistas.com) Daily life is such a hustle and bustle. Everything moves at such a fast pace that we are often not able to just enjoy a moment.  There is so much turmoil in the world.  We see it at every turn, and often question the state of the world we live in.  People are fighting to finish school, keep their jobs, manage finances, raise children…and literally stay alive. The times we live in cause great stress, and strain on the mind and body.  Take comfort in knowing that there are still wonderful things in this world that are capable of assisting us with destressing ourselves while having a great time.
Art (music, painting, writing, photography, cooking, etc.) is a wonderful way to re-engage with the universe without the negativ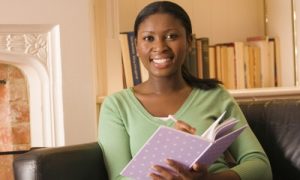 e energy. Before you get concerned you don't have to be able to function in an artsy manner to enjoy the beauty of such. Music is such a powerful force it can lull you out of any negative space.  Sometimes we need to have moments whereby we just turn on the music, tune out the world, close our eyes and just leave this place. Sometimes we forget that music, across genres, can bring about unity and joy when all seems to be lost.  Writing, and painting, can allow us an outlet to unburden ourselves while maintaining our privacy.
Journaling through written word or painting is a great stress reliever, and it can even be kept as a testament to how far we have progressed in life.  Photography is an awesome way to see life for the beauty it entails. We get to explore the details of the world around us…this can be a steady reminder that this place is not as ugly as it may seem at times. This next one may raise a side eye but hear me out.  Cooking can be a very therapeutic art form (culinary arts).  Often times we see it as a chore, burden and/or plainly a necessity.  When a woman is in a relationship whereby cooking is assigned the gender role of "she" one can see it as forced verses a joy.
However, the process of cooking, exploring your palate and creating new dishes can be exciting while relieving stress in the process.  We can experience different regions, countries and cultures from the comfort of our kitchen.  Furthermore, I must admit there is a wonderful feeling that washes over you when you cook something whereby you and others absolutely love it.  Cooking can be a joy when the perspective on the act is shifted.
The beauty of art is if we aren't making it there are many places we can go to partake.  Museums of all kind, book stores and libraries, lounges and clubs are all ways that we can treat ourselves to relaxation that is entertaining.  Life is chalked with stress, deadlines, and craziness and must do errands.  It's important to find the things that help bring balance to you.  Doing this will rejuvenate your mind and body so that you may tackle life with more ease.  Art in its many forms can function as our relaxation space.
Staff Writer; Christian Starr
May connect with this sister over at Facebook; https://www.facebook.com/christian.pierre.9809 and also Twitter; http://twitter.com/MrzZeta.