Six Affirmations For Black Women In The Professional Workplace.
(ThySistas.com) Diversity in the Fortune 500 took a loss; Xerox lost the only female African American CEO in the fortune. Accenture's lead board director Marge Magner said, "Performance improves with diversity" as she speaks from her experiences of women leaders having the responsibility to make the way, to clear the path, to create opportunity. However, black women face a different kind of challenge when in the workforce than other women. The road is not always paved for success and comfort.
Here are 6 things us black women should remember to do in the workforce …
1. Learning how to advocate for ourselves
Women are always encouraged to be advocates for themselves in t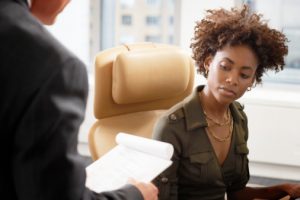 he workforce, especially those in men dominated fields, however, it is white women who I see taking the most advantage of this wisdom. How often do we, black women, hear the same thing? Do not undersell your craft and what you have to bring to the table. As someone once told me, "You are your own best advocate." This is important to remember when you are negotiating your salary and wanting to make an upward move versus a lateral one.
2. Speak up when invited to the table
Very rarely do we get included in conversations and important meetings, but when that offer is extended it is our responsibility to speak up when invited to the table. A recent study found that black women make up just 8 percent of private sector jobs and less than 2 percent of leadership roles. I know it is easier said than done because there is so much at stake when you are a woman of color, but know that what you have to say has added value.
3. Be a mentor and mentee to others who look like you
It's called passing the torch and I've seen my white counterparts do it well. It's important for us to mentor and groom each other for higher roles. Not only does it show camaraderie, but also enhances comfort for women of color in the work place. You have someone you can look up to who looks like you and can also show you the ins-and-outs of thriving in the industry. And once you've benefited from this, don't forget to reach back and do the same.
4. Be comfortable in your own skin
Recently, a friend told me she decided to not put braids in her hair because she did not want to be judged or excluded at her workplace. Our reality is, bantu knots and braids are not accepted in some company's culture and values. Albeit, productivity and quality of your work is not dependent on your appearance, but finding a balance between your own authenticity and what your workplace expectations are and what makes you happy is vital.
5. Seize opportunities to better yourself and career
In my own experience, I've always looked for ways to make myself more marketable and to be the "go-to-person." I'm always open to taking on new projects at work, the more you learn and know the more indispensable you become. I also partake in various weekly community-wide corporate and civic events because that is the best time to meet people. Networking with people across multiple industries will give you an edge because you never know when they can help you, also build allies, attend conferences in your field, sit on boards and become civically engaged in your community. People in and out of your workplace will start to look to you for information and people will continue to build trust in you as you build your network, knowledge and credibility.
6. At the end of the day we have to work twice as hard to have half as much
Papa pope from the show Scandal said it best "You have to work twice as hard to have half as much." Although a new report released by the National Center For Education Statistics recently affirms that black women are now the most educated group in the United States, we still have a lot to prove to employers and work peers, and equally, workplaces have the responsibility to be conscious and diligent as well as deliberate in helping us meet the diversity gap.
Written by Rahel Tekola
Official website; http://www.twitter.com/RTekola