The Best Way to Organise a Functional Warehouse.
(ThySistas.com) Running a warehouse is a huge task and it takes a lot of time to perfect it. In fact, it might never be perfected; it's more about working to continually improve how it functions. A big part of this is organisation. Without an organised approach, your warehouse will never reach its full potential.
Clear the Floor
This might sound like a pretty obvious piece of advice, but it matters. When the floor is not clear, it becomes much more diffic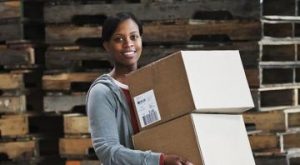 ult for people to get around the space. You should move anything that is making getting around the warehouse more difficult. Clutter cannot be allowed to get in the way because it makes accidents more likely, and there is the risk that efficiency will be damaged. The less that gets in the way, the quicker people and vehicles will be able to move around your warehouse.
Cut Travel Time in the Warehouse
As well as clearing the floor of your warehouse, there are other ways to organise the warehouse better and cut travel time. One of the more important things to do is make sure that items are stored as close to where they are picked up as possible. So, when a picker comes to take something from the shelf, they won't have to take it far to its destination. You can sort all items according to what they are. This then makes is so much easier for pickers to find and take items from the shelves to the delivery vehicles.
Make the Most of the Vertical Space
Organising the space in your warehouse also means making the most of the space you have. Of course, every warehouse is different, so you will have to think about how best to manage your space. But if you have high ceilings, make sure you use that vertical space. You can find racks from pallet rack distributor. If you stack these high, you can use that space to the best effect. With forklift trucks and other equipment, these high storage systems won't cause you any problems.
Sequence Orders
It's vital to make sure that every item that enters or leaves your warehouse is recorded and sequenced. That way, you can keep a detailed inventory of what you have and when it needs to be delivered. You can use barcode scanning systems to makes sure that everything is recorded properly. It's impossible to achieve an organised warehouse without thinking these things through properly. You have to know what's going on if you want to be in control.
Automate as Much as Possible
Automation is changing the face of warehouse management right now. This is something that you should think about very carefully. If you can find affordable ways to introduce automation to your warehouse. It could speed up how the whole place operates and functions each day. Shelving units that can shift about and deliver items to where they're needed are very useful. More and more warehouses are not choosing to take advantage of this kind of automation.
Staff Writer; Sarah Long