Make The Most of Summer 2016 With Outdoor Exercise And Sports.
(ThySistas.com) Ladies, it's time to get outside. Why? Because it's summer, of course! We wait all winter for it to arrive. Now it has done, we need to make the most of it. Get out there by finding some fun and challenging outdoor exercises and sports to do. Need a bit more persuading why? Well, as we get older it is even more important to stay healthy! Healthy adults can enjoy a longer life, a fitter body, and have more energy to boot! Exercising can help hugely with this, alongside giving your best posture, helping you lose weight and much more. Plus, being outside gives you expose to fresh air and natural sunlight. Here are three outdoor exercises and sports you should make a part of your summer 2016…
Paddle boarding
Paddleboarding is a great starter activity if you want to ease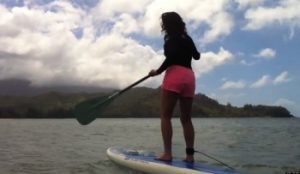 yourself in steadily. Not as intense as surfing or bodyboarding, it is still a great workout for your body. You will be working your core muscles to stand, and of course, your arms to paddle! It is a great way to be out in the water, in the sun, getting fit. That being said, water sports equipment can, however, be quite expensive to hire. This is especially apparent when you consider how cheap it is to run, for example. The only real necessity for this is a proper running shoes. Instead, buy your own. You can use it whenever you want and wherever you want. Plus you can loan it out to friends and family when you're not using it. Need help making up your mind about which one to get? Search online for reviews of paddle boards.
Running
We've already touched upon running, and how affordable it can be. That's right; expensive gyms and fancy treadmills aren't the only places you can do this. In the summer, the weather is nice enough and the evenings bright enough to run outside. Run on your local streets, or head to a local park. A fit-for-purpose set of running shoes or trainers are needed, but aside from that, there is no other necessary cost. You don't need fancy clothes; a loose fitting tee-shirt and pair of pants will do. Motivate yourself by tracking your progress and distance with an app. Map My Run is a very popular one, and you can share your results with friends also using the app too.  Being able to see how you are improving over time will be great for you. If you are worried about being lonely, get a friend to run with you!
Garden Pilates
Garden Pilates is ideal if you already know the basics of Pilates, but are getting bored with your class. Maybe the teacher isn't that great, or too many people have now signed up. Whatever the scenario, take that knowledge and do it yourself at home. But don't be cooped up indoors. Take your mat and a fresh bottle of water and do it in your garden. If you don't have a garden, find a quiet spot in your local park.
Staff Writer; Karen Barnes