Life After Divorce.
(ThySistas.com) On October 27, 2013, my whole world was rocked. My ex husband has asked for divorce after 6 years of marriage. I was totally blindsided because everything seemed to be going well between us. Not knowing he was plotting to "separate" way before then. During the holidays I did my best to keep the family together to remind my ex husband that we need to make it work for the sake of our family.
I prayed and prayed and prayed for us to work. When someone doesn't want to make it work, it is time to let go of him and start healing from the aftermath of my failing marriage.
I don't want to say I was in denial because I knew my then husband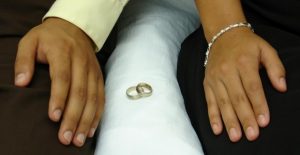 still love me and I still love him. But it wasn't in God's vision for the both of us to stay together. We both had to let go and move on in order to grow spiritually and emotionally. During this time, I wasn't working so I was a housewife and a mother of 2 beautiful kids. When my ex husband decided to leave for good (during one of the coldest nights ever in Georgia), he left me in with no financial support in raising our kids and taking care of the expenses of the house, bills, etc. I started blaming myself for the divorce constantly. Once he divorced me he divorced the kids, too.
Luckily, I found a job with an okay pay to start but it was full time yet temporary. The job wasn't enough to maintain my living situation and taking care of the kids on my own. My part time picked up more hours so I was so thankful that I was able to work two jobs. In the process, I was losing time with my kids because I worked long hours sometimes. There were times I did my creative work on the side so sometimes I would 3 jobs to do what I have to do for my family.
The signs were there but I chose to sweep them under the rug per se. I saw them before we have gotten married. I thought maybe he would change his ways but he didn't.
Staff Writer; Regina Mutcherson