The Darkness of Skin and the Lightness of Rapper Lil' Kim.
(ThySistas.com) This past Sunday as most people woke up with the afterglow of Beyoncé's stunning delivery that still requires many more weeks of reflection,  another talented woman of color abruptly seized the headlines.
Lil' Kim  —  the Brooklyn-born rapper who was famously intertwined with The Notorious B.I.G. aka Biggy Smalls posted a photo of herself on Instagram  —  livin' it up in Miami.
That wouldn't have been much of a big deal if not for the fact that she was barely recognizable.
In an interview with Newsweek some years ago — the woman who was born Kimberly Jones confessed her insecurities about the natural born features that were causing her to lose the men in her life to women "who were European-looking."
"The long-haired types" that left her devastatingly pondering how in the world "a regular black girl" can compete with that level of perfection.
I'm sure I wasn't the only black woman who found it ironic t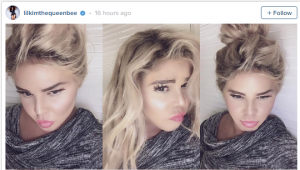 hat in the midst of being ceremoniously uplifted my Beyoncé's litany of praise for the founding sisterhood that she celebrated with astute passion —  the plight of a woman who couldn't receive her blessing — loudly resonated with unabashed concern.
It didn't take long for the web to heat up with memes, tweets and retweets  —  as users expressed concern, disgust and sadness at the sight of a woman who had finally succeeded in her quest to be anything but the "regular black woman" that she still is.
We can't fault her entirely.
When you are enslaved by the perseverance to be the very thing that represents freedom from who you are — your search ends when you stop breathing.
Oscar-winner Lupita Nyong'o is luckily enjoying the warm embrace of a climate that has been flexed into adhering to the winning ethnic aesthetic.
Anything remotely related to Africa has the automatic stamp of approval. It's cool and funky and even futuristic to be remotely dialed into the seductive fabric of the Diaspora.
But twenty years ago — when I arrived in this country to pursue my college education, being African, and even worse Nigerian,  was not a reality that I could share with pride.
There are many legit reasons why and they still hold water today but back then they dictated the exact way in which you would be received or rejected.
As a dark-skinned brown girl — I was compared to my lighter-hued mother quite a bit. Mostly because we looked alike except for the fact that she was light — and I was dark.
I never cared about my skin complexion because quite frankly, I liked what I saw when I looked in the mirror.
But I did notice that in music videos featuring my favorite artists like Bobby Brown, Boyz II Men and Jodeci — all the girls frolicking in harmony — were much lighter than me.
The message throughout the nineties echoed the value of pale skin.
The grunge period worshiped the effortless appeal of "heroine chic" that consisted of chalky white skin, barely-there boobs and a non-existent ass.
As for black women, we had to be clones of Vanessa Williams or Halle Berry. You couldn't be dark enough to be categorized as "just black."
You had to have that extra "something" that elevated your ability to compete with "regular" white chicks.
Things have changed.
And with that comes the present generation of black women who can proudly inhabit their templates without the blatant threat of ignorant disruption.
At least not to the degree that I was subjected to.
But even with the societal advances that have been realized — the thrashing of yesterday can't be downplayed.
Lil' Kim is married to that insecure young girl — until death separates the two in one.
Her scarily pasty and plastic presentation —  that proves her selected ability to be a wondrous human torch light  — may give us sore eyes but to her optical view  —  she still has a lot more work to do.
Her job will never be finished.
When you are enslaved by the perseverance to be the very thing that represents freedom from who you are — your search ends when you stop breathing.
As long as you know life  —  the hunt for love and acceptance lives.
As it should.
We never stop seeking validation from those that wield the power that can make or break us.
Kimberly Jones tragically accepts that her darker version wasn't good enough to garner the lifestyle she deserved.
Despite all that hard work.
She was inspired to undergo extreme measures to correct nature's deficiency.
There will be more where that came from.
But for now, we are processing the look book of a black woman who transformed into a being that fits the standards she formulated.
The painful realization comes in the fact that Lil' Kim still sees what we wish we were looking at right now.
The darkest skin may cruelly amass the hatred that develops and ends with displeasure, but the lightness that takes its place reflects the beacon of hopelessness that pleasures the unworthy.
You are worthy to be black and dark and even darker.
Never succumb to the blinding light.
Written by Ezinne Ukoha
Official website; http://www.twitter.com/nilegirl